The significance of Dakota Avenue to Animal Reiki Western Australia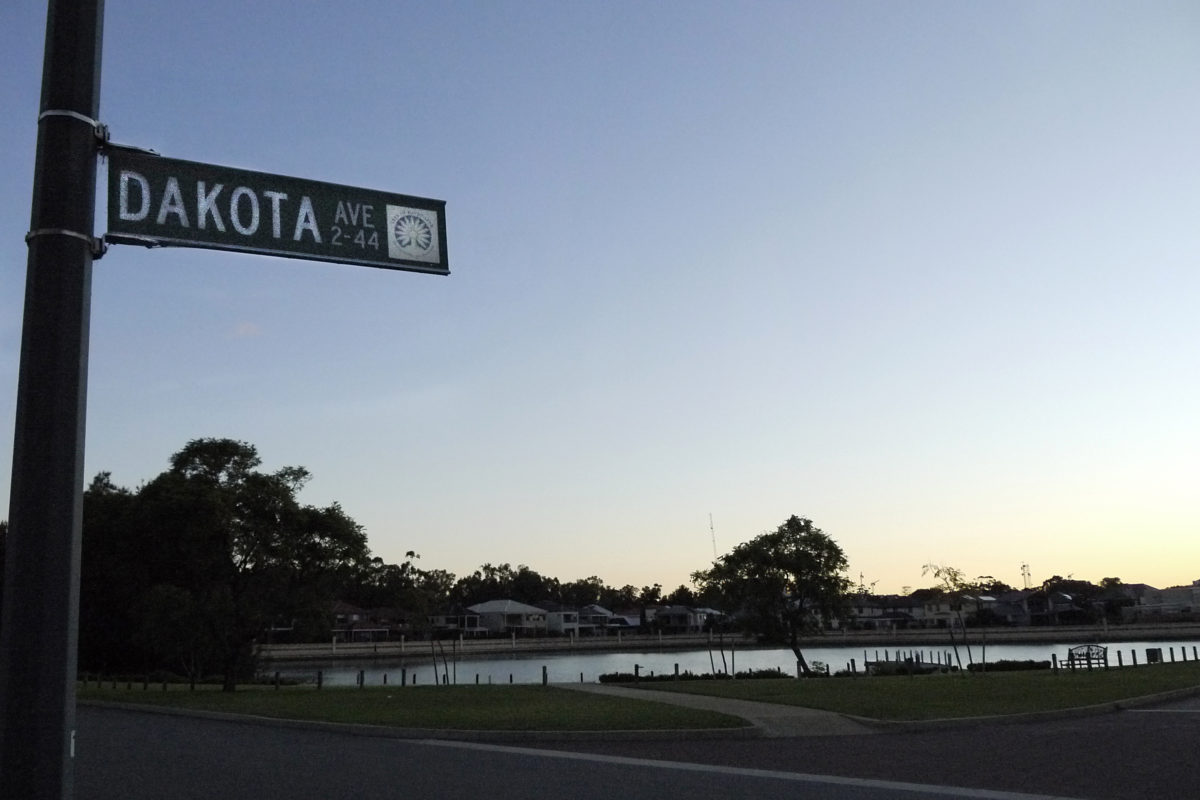 Occasionally life surprises you with synchronicities. 
Often they are easily disregarded as 'coincidence', and are soon behind us- we may forget they even happened. 
Sometimes though, there are too many indications of fate and you can't help but pay attention. 
This story is undoubtedly one or those instances.
***Please NOTE: All SILVER WORDS appearing below are HYPERLINKS either to:
A page OUTSIDE the Pause website (will automatically open in a new tab);  OR
Other pages WITHIN this site (will take you directly to that page- hit the back button to return) ***
2010
After offering Reiki to my mother and father in laws beautiful cat Xena (to help her arthritis) around Christmas 2010, and realising how much she enjoyed it, I was immediately inspired to google 'Animal Reiki'.  I was amazed and excited to find Kathleen Prasad who I discovered attributed her work in the field of Animal Reiki to her beloved rescue dog Dakota, who had spent 16 years by Kathleen's side.
I loved learning that Dakota, an Australian Shepherd mix, would sit at Kathleen's feet each time she undertook her daily Reiki practice (meditation and contemplation practice) and helped her understand the ways in which animal's sense, enjoy and draw upon the peaceful space created.  
As a result Kathleen then worked on transforming her life, from school teacher to a now world leader in the field of Animal Reiki, through her business Animal Reiki Source and later her non-profit (co-founded with Leah D'Ambrosio in 2008) Shelter Animal Reiki Association (SARA).  SARA is dedicated to the memory of Dakota and most recently SARA has commenced an annual celebration named 'World Animal Reiki Day' yearly on February 5- Dakota's birthday.
2013
In August 2013 I fulfilled a dream to travel to the United States to meet and train with Kathleen.  The training was held at the most beautiful animal hospice and sanctuary named BrightHaven founded by husband and wife Gail and Richard Pope who have dedicated over 22 years of their lives to this mission..  
I left with my heart filled to the brim with gratitude for the experience and for the level of love, care and compassion provided to the animals that were lucky enough to have found their way to BrightHaven , where Reiki forms part of every animal's treatment protocol.  (Alongside veterinary care). 
My commitment to helping animals was more than cemented!  As my husband Neil and I waited at the airport for our flight back to Jakarta, Indonesia (where we were living in 2013 for his work) I found myself constantly holding back tears as I didn't want to leave – I wished that Kathleen and BrightHaven were not so far away.  
Poor Neil it must have looked like he had done something wrong- when we had shared the most amazing trip of our lives!!
Rewind to earlier in 2013, when I received shocking news (over the phone in Jakarta) from an Australian doctor I had only seen once for some simple blood tests.  I was diagnosed with Premature Ovarian Failure at age 34. 
After completing comprehensive research on this condition (aided greatly by my studies in complimentary/ holistic medicine) and travelling back to Australia for further testing, my diagnosis was confirmed.  Before Neil and I had even started trying to have children, we found ourselves being told it was likely that donor eggs might be our only option. 
Still digesting this news, in May 2013 we travelled for the first time to Hawaii to celebrate our 7th wedding anniversary.  Enjoying the seclusion of Maui we were surprised to step out of a gift shop and practically straight into an old friend of ours, Eden. 
Eden and I had lost touch when I changed my email address around the same time Eden had lost her phone.  Eden was on her honeymoon and it was so great to reconnect with her and hubby Gianni over dinner at such a special time. 
2014
After moving back to Perth (Western Australia) we sorted a catch up with Eden & Gianni, planned 2 months in advance due to our conflicting weekend schedules!  When we finally caught up, mid 2014, we had our property on the market and they had just moved from one home in Maylands to another. 
Eden & Gianni shared how much they liked Maylands as a suburb leading us to think 'maybe we should look at Maylands'.  A suburb we had not even thought to consider!  The next day we found a property online that had just come onto the market in Maylands.  It was on Dakota Avenue.
The following weekend as we were driving to the 'home open', along Peninsula Road and minutes away from the house, I glanced at our satellite navigation and saw Kathleen Avenue.  How funny- both Kathleen and Dakota in the one suburb and only streets away from each other!!
The second I stepped through the front door I knew it was our new home.  The few things we were looking for were all there (including the perfect space for my home office) and we were sure we could complete most renovations within our budget.  The only problem was that we hadn't yet sold our existing home!
We placed a strong 'subject to sale' offer which was accepted, aside from a 48hr clause being added.  (This clause, should the seller receive a subsequent cash offer, would mean that we would have 48 business hours to decide to go ahead with the purchase unconditional, i.e. we would have to get a second mortgage and cross our fingers that our own home sold quickly – something we were not keen to do).
After a few weeks, on a Friday afternoon we got the call.  The 48 hour clause had been activated and if we didn't sell our home that weekend, we would be forced to make a difficult decision.  Given the 'Dakota' and 'Kathleen' signs and the serendipitous meetings with Eden & Gianni I was sure the house was meant to be ours!  And then there was one more promising sign.
During that week our real estate agent reported he had found himself fielding calls from a couple who lived 'up North' and had seen our home on the internet and loved it!  They had been looking for a while and advised they would send their family through the home open that weekend and one of them would try to fly down for it too.
That Saturday was a beautiful day and we had something like 22 lots of people through our property, including the relatives of the couple- who we were informed took lots of photos and had been very impressed!   Unfortunately the potential owner's flight had been cancelled, so they were relying on their family to help them decide what to do. 
We didn't need to worry as no sooner was the home open finished than our agent received a call from the couple and by the end of the weekend we had accepted an unconditional/ cash offer, allowing us to confirm our purchase of Dakota Ave- yay!
What made it even more special, was when we found out our new owners were working away due to one of them being in the WA Police Service.  Neil had previously been in the police for a number of years and this seemed a fitting ending to the story of how we ended up living on Dakota Avenue.
Most of all, I am so very grateful that the universe even thought to look out for me, that it was able to somewhat miraculously place me on this path.  In the midst of my health challenges I connected with my passion and my lifes work.  
Trusting this journey, one step at a time, also allowed me to tap into the infinite gratitude I have for my many blessings in life, providing great comfort on the many numerous times I became disheartened, depressed and anxious about the future.  
Having the courage and faith to pursue the road that opened before me has helped me to heal on such a deep level.  
I could NEVER have got there without the compassionate and loving teachings, guidance and support provided by the traditional Japanese system of Reiki and my beautiful teachers Kathleen Prasad and Frans Stiene of the International House of Reiki or the love and support of my husband Neil.  
Special mention goes to our two precious cats, Roger and Leilani who have travelled with us since they have been kittens, except for in 2013 when they lived with my mum Lesley (love you mum!) while we lived in Jakarta.  (This arrangement made due to the rabies risk in Indonesia and not wanting to put them through the experience of quarantine).
They have been our solace and wise teachers, bringing joy to our hearts for the past 15 years and we love them immensely. I am infinitely grateful to be able to support their health and wellbeing with integrative measures as they approach the later years of their lives.
Since then: 
In March 2014 I was blessed to have my request to share Animal Reiki as a volunteer at Cat Haven WA  (a cat shelter/ rescue organisation here in Perth) granted by CEO Roz Robinson.  I continue to volunteer weekly, sharing the gentle power of meditation with hundreds of shelter cats in need.
I am so grateful to every single one of the cats I have met along the way- they have taught me so much!  (Special mention to 'Sir Binky' and also 'Scrappy' and 'Autumn' who I will blog about in 2017).
2015/2016
In October 2015 I travelled to Sydney for the Australian Reiki Connection conference on the fantastic topic of The Future of Reiki.  There are so many misconceptions about what Reiki is and it is SO important- now more than ever– that those fears are allayed so that greater levels of peace can exist in this world.  Directing your energy towards your own healing first is the most powerful thing you can do and your efforts will flow out the longer you stay that path.  
In searching just now for the exact words of a particular quote that came to mind, I instead discovered Marc & Angel Chernoff's website Hack Life and this great article 40 Quotes That Will Quiet Your Mind.  Numbers 3, 14, 19, 20, 21, 26, 30 and 40 are especially interesting.
In February 2016 I traveled again to the states (California & Florida) to complete further Animal Reiki teacher training with Kathleen and also a Reiki workshop with Frans (around his most recent book: The Inner Heart of Reiki Rediscovering Your True Self).  I brought with me a large framed picture of the image shown in this blog as a gift from my heart for Kathleen.  It took up almost half my suitcase with all the bubble wrap but made it there safely which was the main thing- though it took Kathleen a while to get to it- lol! 
After returning, I started teaching a class '5 Powerful Meditations To Help Heal Your Animals' at Cat Haven, donating 25% of the course fee. (This donation element will continue to apply for all future Animal Reiki classes which will be held at various animal rescue and sanctuary organisations). Special discounts for taking the course are offered to shelter staff and volunteers in recognition of the selfless work they do everyday: caring for thousands of amazing animals each year.  Animals who, through no fault of their own, have discovered themselves without a loving home.
I also started the mobile Animal Reiki component of my business and have met some incredibly dedicated animal lovers through my work including a wonderful Veterinarian Michael Taylor, who is part of the amazing team at Your Pets Vet in Mount Lawley.  Michael volunteers every 2 years at an animal shelter in Rajasthan, India.
In July 2016 I finalised studies in Herbal Medicine and Nutritional Medicine (for people) at the Australian Institue for Holistic Medicine.  Wellness consultations will commence 1 April 2017.
Nerium International and Pause
Most recently, my business Pause has become a rep for a fantastic American company Nerium International, that offers 2 innovative plant and research based anti-aging products.  Nerium opened in Australia on 20 October 2016 and have a bright future ahead of them.  
I am excited to announce that 30% of the dollar income generated by Pause through Nerium will be set aside to create an animal based non profit to provide much needed support for an issue that is very dear to my heart.
Currently available in Australia via this unique Pause link are the Nerium Optimera Age Defying Day Cream & Age Defying Night Cream. Sold with a 30 day money back guarantee.  
These 2 fantastic products are dermatologist tested, suited to ALL skin types, ALL ages and the same product applies for men/women.  These products contain:
NO parabens;
NO propylene glycol;
NO DEA;
NO fragrance;
NO colourants; and
Are not tested on animals.
Great skin care does NOT need to be complicated!!  Just wash your face as normal and then use these awesome creams.  GO PAUSE :)
(For more details please visit the ANTI-AGING tab).
I now feel ready to invite children into the life my husband Neil and I have worked so hard for.  I believe 2017 is going to be a very special year.
I would also like to acknowledge these 5 amazing people in the hope that these additional resources might help you on your journey.
1. Marie Forleo – an American "Multi-passionate Entrepreneur." Marie says on her about page  "For as long as I can remember, I've been insatiably curious about human potential.  I wanted to know, what exactly is it that makes people genuinely happy, successsful and creatively fulfilled?"  I have learnt SO MUCH  from Marie's You Tube Channel "Marie TV- THE place to be to create a business and a life you love"  and I know you will love it too!  Most of all- I LOVE Marie's mantra: "The World Needs That Special Gift That Only YOU Have".  Thank you Marie!!
2. Lissa Rankin – an American 'physician, speaker, founder of the Whole Health Medicine Institute and mystic' who I discovered online just before I moved to Jakarta .  Lissa's books including Mind Over Medicine. Scientific Proof That You Can Heal Yourself are supported by dedicated research, for example peer reviewed medical literature, including the New England Journal of Medicine and the Journal of The American Medical Association, and are invaluable resources.
2.  Shola Richards – an American corporate trainer and incurable optimist. If you have ever experienced bullying and particularly workplace bullying, his blog The Positivity Solution is a great place to start.  Shola has also recently released his first book Making Work Work.  I so love this beautiful African Proverb Shola references: "If you want to go fast, go alone.  If you want to go far, go together."  Shola's book trailer video which you can view here (it is just over 2 minutes long) is especially powerful – I look forward to reading his book!
3.  My brave friend Heather Jean, a spiritual teacher of sacred feminine wisdom who is passionate to reawaken and remind women of the power we have within, to bring new ways of living through the heart in peace, love and joy. Heather has also created a fantastic range of programs for sensitive children available through her website The Magic of You.
4.  Last but definitely not least, Kristie Dean. Kristie is an amazing friend and inspirational Leukaemia survivor who has a powerful message for this world.  Kristie has been medication free and in FULL remission for the past 10 years, following 5 years of drug treatment AND has the evidence to prove it.  Her book "I am Now. Listen. Act. Survive." will be released in 2017. You can stay up to date with Kristie's adventures via her Facebook page.
BRAND NEW: The 2018 Animal Reiki Perth educational program will be released SOON!!  Join the PAUSE MAILING LIST to stay up to date and to receive your FREE copy of the heart based e-book from Pause: TOP FIVE THINGS YOUR ANIMAL FRIENDS WANT YOU TO KNOW
Xx Carolyn
Photo credit: Marlies Loescher– of Animal Soul Photography