Leilani's Eulogies
These words of love and gratitude were spoken as part of Leilani's ceremony on Tuesday afternoon, 27 June 2017.
It was healing to write about our precious memories of a special cat we miss so much and who's beautiful presence in our lives will be remembered forever.
From Carolyn:
My dear sweet precious friend Leilani.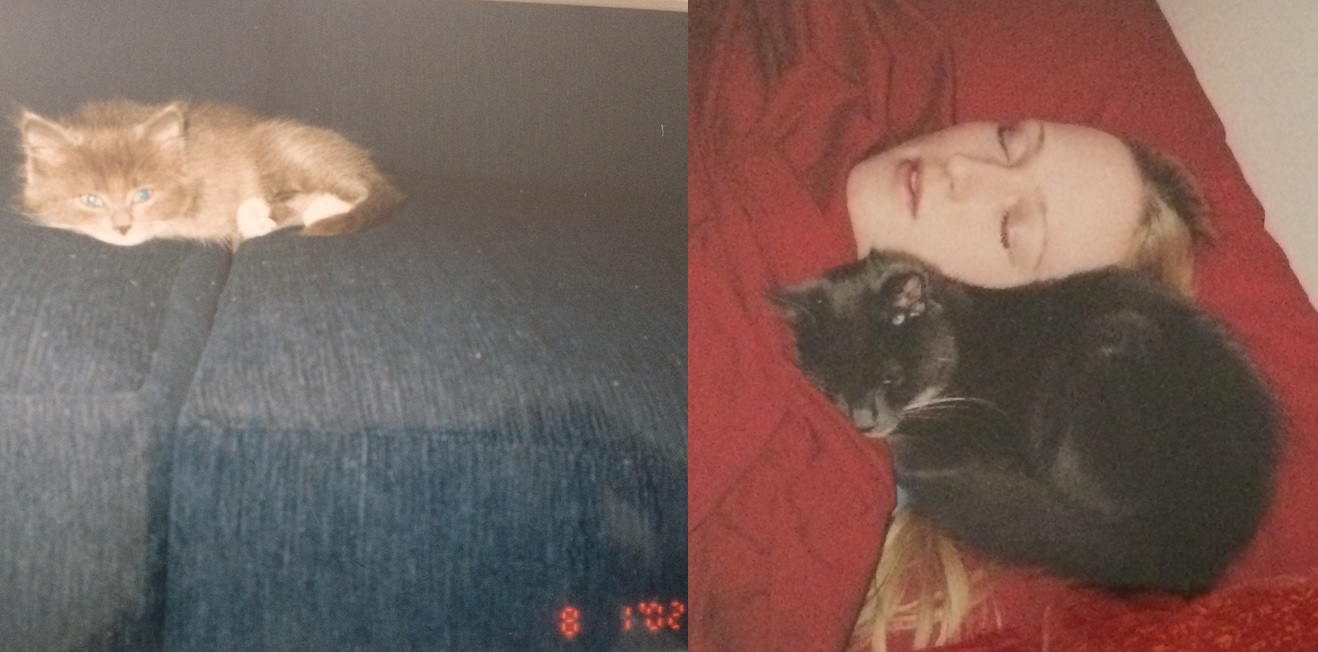 Pictured, left to right: Leilani as a kitten, around 8 weeks old;  Leilani snuggling with me.
We had so many nicknames for you, our sweet little princess, our boo boo, little miss, missy moo, moo, boo, fluffy four feet, Lani, Lani Lou, sweet pea.
Your pretty name Leilani, meaning heavenly flower, suited you right from the start.
I will never forget when I first saw you, as a young kitten standing under the coffee table. I had dreamt of having a grey female kitten and there you were, so sweet and cute.
I remember, after we first brought you and Roger home, that we kept you together at night in the laundry, in our first home together in Booragoon. We placed a clock under the soft towelling, to mimic the sound of your mums heartbeat…
Each morning I would wake, so excited to get to the laundry, open the door and see you both.
We have journeyed together through so much. We have lived in 3 different states, in 6 different houses. I think Booragoon and then our current home in Maylands, were your favourites.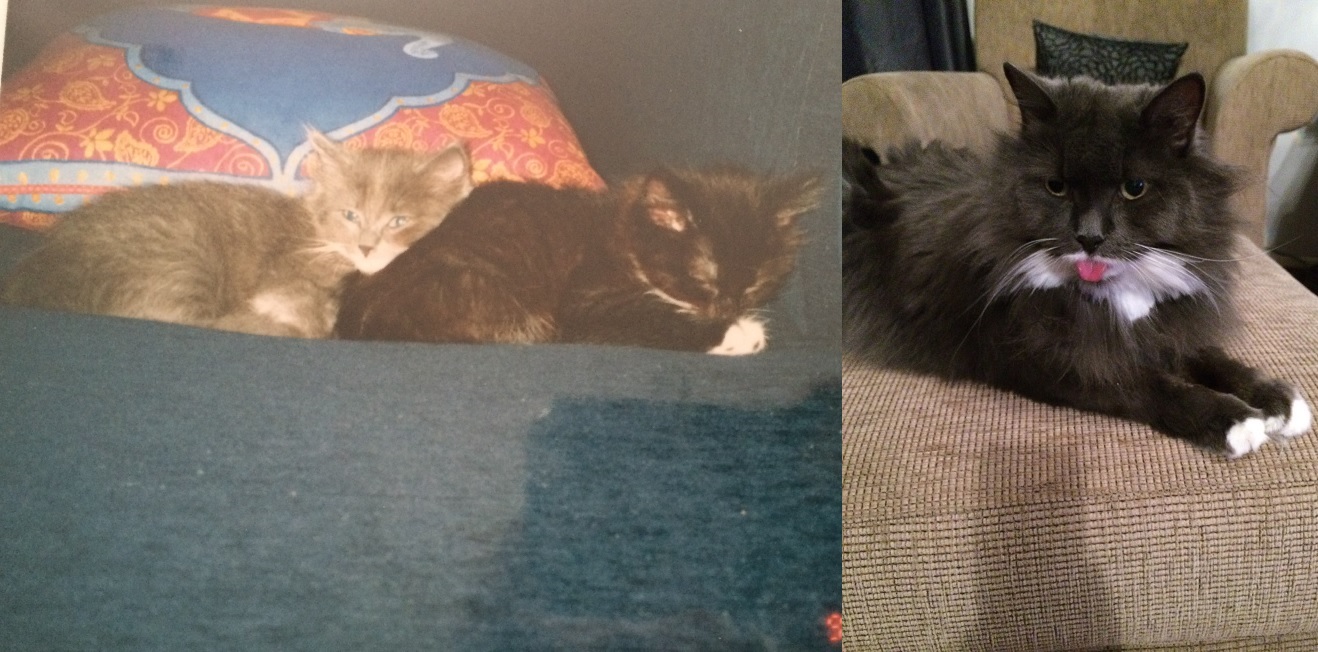 Pictured, left to right: Leilani and her brother Roger as kittens, early 2002;  Leilani in 2014.
You also had time with Mum and Matthew, sharing your sweet spirit and shining heart with them too, while we lived in Jakarta. (And with Matt before that when we lived in Bali).
Neil and I will never forget the way you looked at us, from the end of mums corridor opposite her front door, just before we left for Jakarta… The way you just appeared and looked at us, with those beautiful big green eyes. It was a mix of disbelief and acceptance, communicated so clearly and so preciously, as only you could do.
I've loved that in Maylands you could see beautiful birds in our garden (you never caught them), you had all your special little places where you were safe. And every night, you jumped onto the bed and slept next to my pillow. It was your spot, will always be, and I will miss so much you not being there.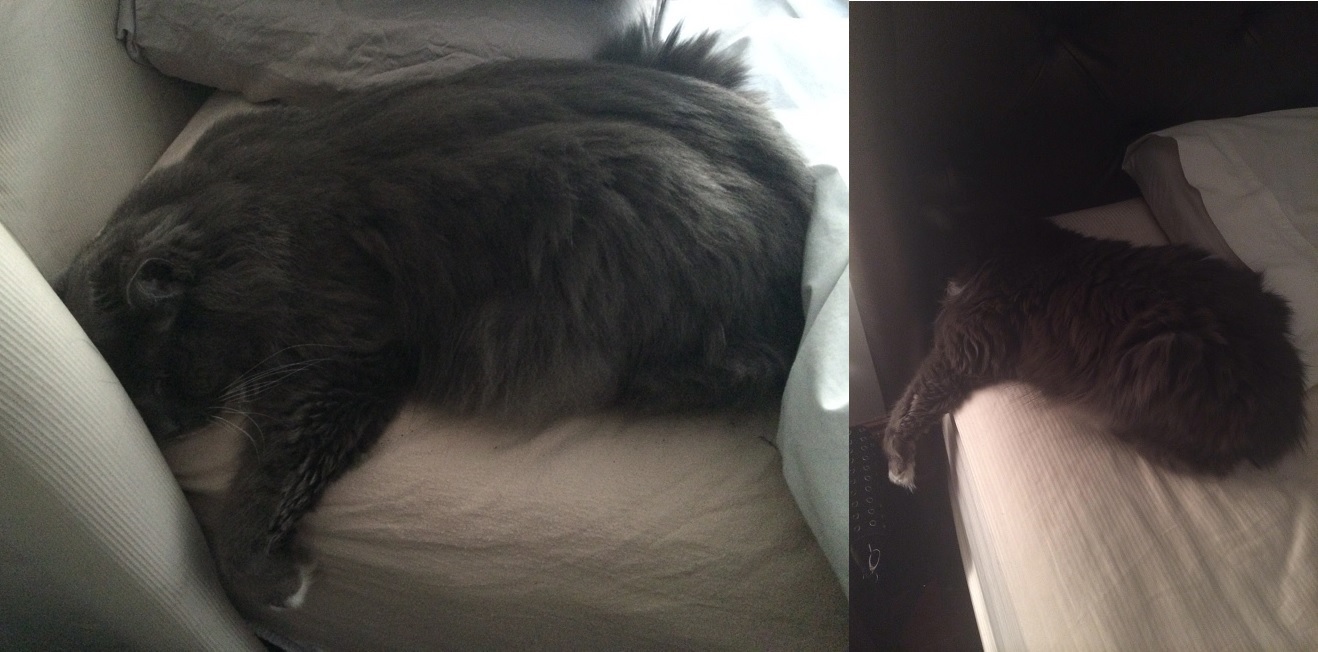 Pictured, left to right: Leilani 'in position' where she would always sleep, next to my pillow.
You were always my friend- I know I told you how much I loved you – how of all the time we spent together, that I would so often tell you: there was no one else I would rather be with, so many special moments of presence we have shared.
I loved, so many times, when we would hold our foreheads together.  We would just stand like that, joined together and it was so beautiful.  It was our 'thing.'
I will miss you waking me up every morning, rousing me out of sleep with your wet nose and whiskers on my face, or your paw tapping me, or starting the day listening to your pretty little purr.
A purr that Neil and I both heard clearly yesterday in our minds, after we bought more flowers for you and added them to your shrine, where we have been honouring you.
You were and are the light of my life. Your beautiful, bright shining heart and spirit, your warmth, happiness and love, were of great comfort to me as we flew home to be with you.
You helped me write my business e-book, 'top five things your animal friends want you to know'.  You helped me pull together my business ideas into something cohesive- in the days just before I left for DOHA to be with Neil.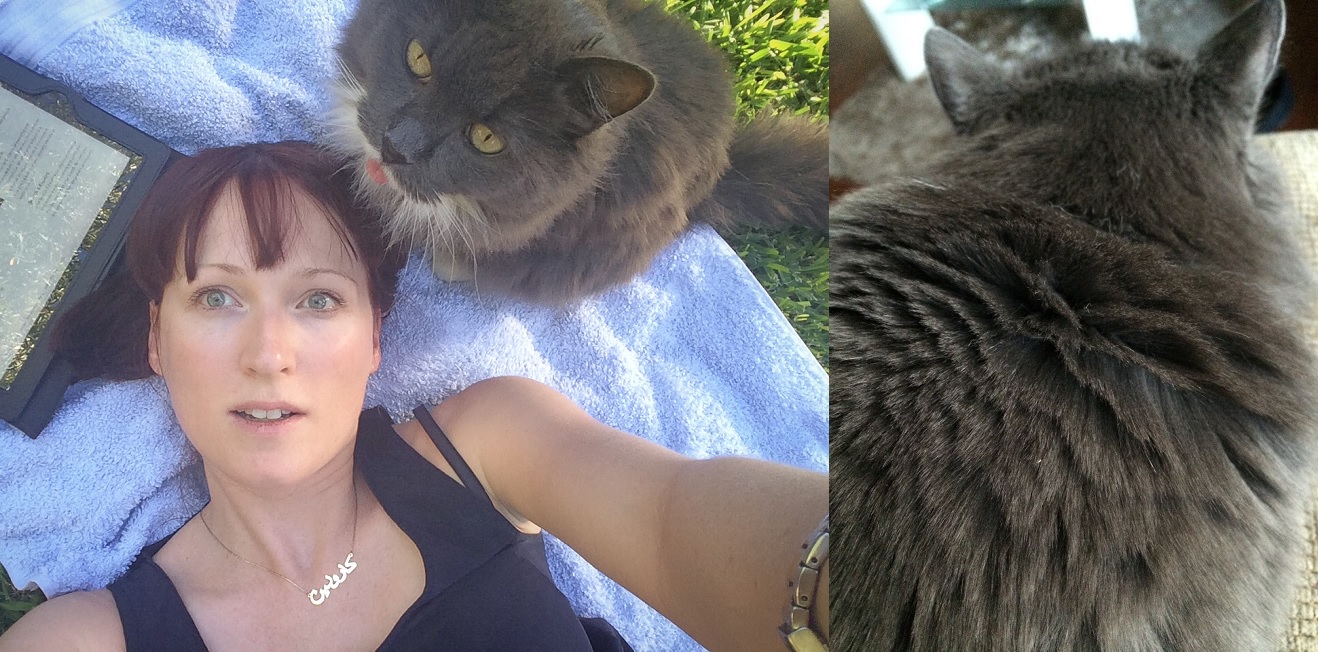 Pictured: left to right: Leilani always enjoyed it when we were outside with her, she also loved to support me in my work;  I loved the way Leilani's coat would fan out like this, almost like a flower within her fluffy fur.
As I was finalising the updates on my website, you appeared. You jumped on my desk, and were so happy and sweet.
I know your appearance at that time was significant, I know you had been helping me. I know you wanted me to leave the computer and spend time more with you, I wish I had, but I know you understand I had time pressures. I had not realised that you had them as well…
I'm sorry I didn't get to plug in your heated cat bed before I left. I was so looking forward to introducing you to the heat pad when I returned… But I understand it was just not meant to be… I'm glad you loved you new little bed though, and had a snug little house to sleep in.
I remember you sitting so cute in your little house, on our bed, as I kissed you goodbye. I had not known it would be the last time we would be together in our physical forms.
I believe however, that you achieved your mission here on earth. You helped your friend to achieve dreams that I hadn't even realised I had. You opened my heart and you taught me so much.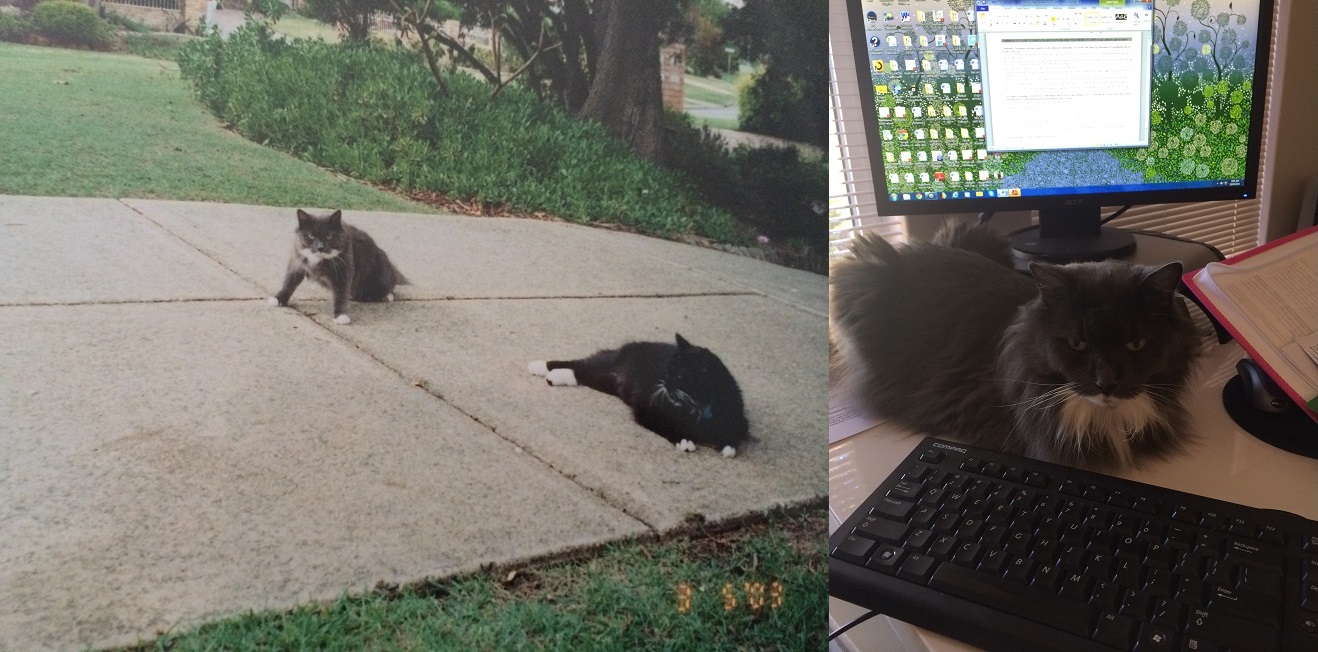 Picture, left to right: Leilani always walked over as soon as she saw you outside- action shot from 2013- she continued to do this her whole life, it was always a trait of hers;  Leilani, my favourite helper.
I know I also helped you. It was an honour, holding space for you and helping you to release your fears of the garbage truck and of tin foil. It was impressive to see you sitting in front of the blender, loud and filled with Ice, and that it didn't faze you one bit.
Leilani: I promise to always do my best to look at life through eyes of love, not fear. I promise to share your wisdom with others, to benefit other animals, in your honour. I promise to always remember you, your teachings, your love, your kindness and your infinite sweetness.
I will remember your 'wobbly's' with fondness. It was so cute when you would sit with your back to us, or turn your nose up if we put your bowl down the 'wrong' way. You were only trying to communicate your messages to us- sometimes we were a little slow to cotton on… But you always made sure we knew how you felt and what you wanted.
We were so glad and so blessed, to have shared so many special & meaningful years with you.
I thank you for your courage, and your strength. That you waited to say goodbye to mum, that you ensured we would have an answer as to why you had to leave us, with the xray… That you met one more vet, who was moved by meeting you… And although it was under difficult circumstances, she also witnessed your lightness, your sweetness and your love.
That you lived life always on your terms, standing strong, and left your body, your physical form, in exactly the same way, is truly beautiful. Such a brave little girl! My little worrier/ warrior!  (Yes I loved it when you would ruminate too…)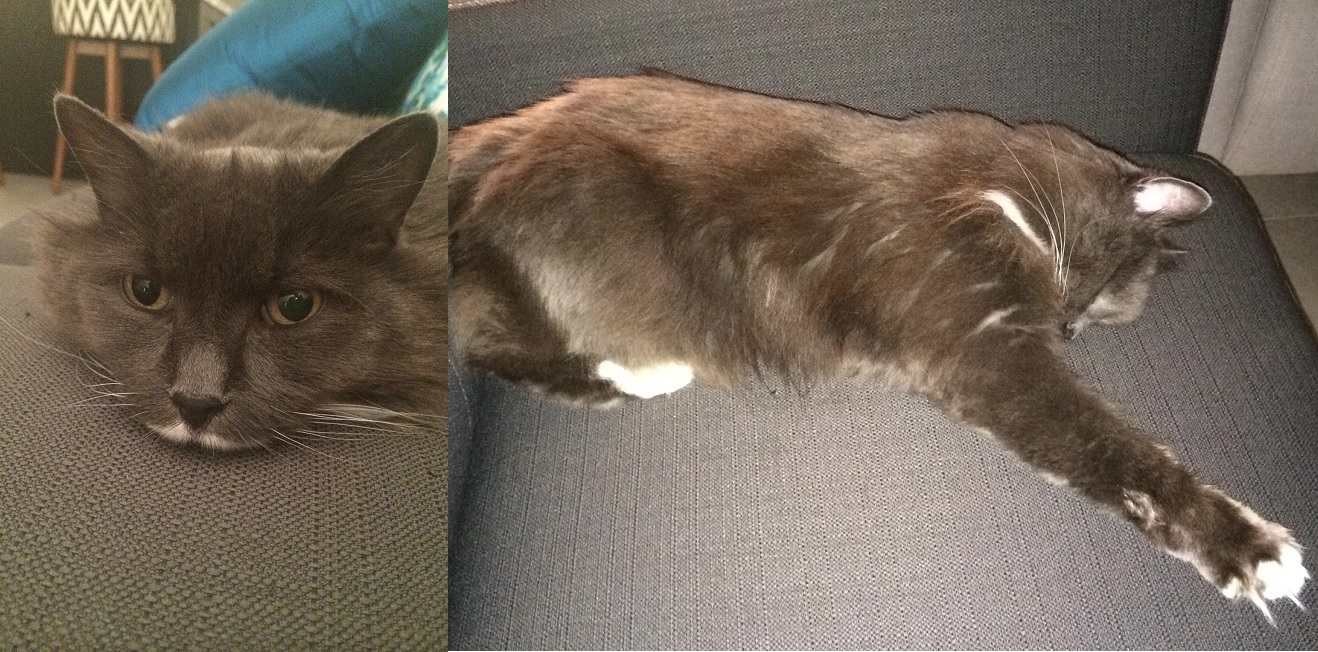 Pictured: left to right: Leilani deep in thought; Leilani 'relaxo rancho' on the couch
What a precious gift you gave to us all, as you knew 'that decision' was one we were all completely unprepared to make.  Yet you knew too that we did not want you to suffer.
Most of all you knew you were deeply loved.
I'm glad you got to enjoy your final years here with us, without us knowing of your tumour.  That there was no fear or sadness surrounding you, in your environment, just joy and love at your presence in our lives.
You are such a special little girl, I am so grateful that I could hear you this morning, it brings such peace.
You are one in a trillion million billion. We wouldn't have traded any moment, for anything in the world.
You are infinitely loved and we hope, by this ceremony, and the love and compassion that has been offered to you; that you are infinitely blessed as you make your transition from this lifetime.
Leilani, you were the most special little being and we all love you so very much.
Xxx Carolyn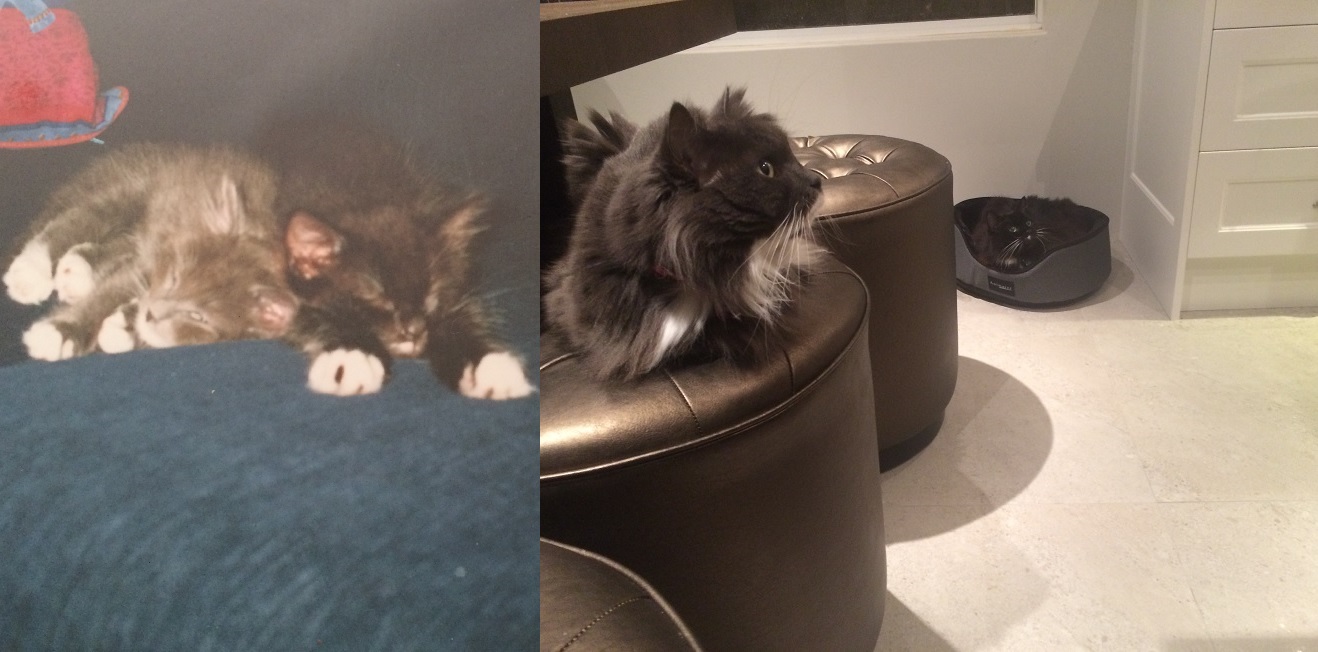 Pictured, left to right: Leilani and Roger as Kittens.  Leilani's powerful presence.
From Neil:
Leilani was such a powerful little girl who we all loved so very much.
Leilani's energy was so strong she always made her presence felt which we loved and will forever miss.
Everyone who met Leilani saw her inner and outer beauty.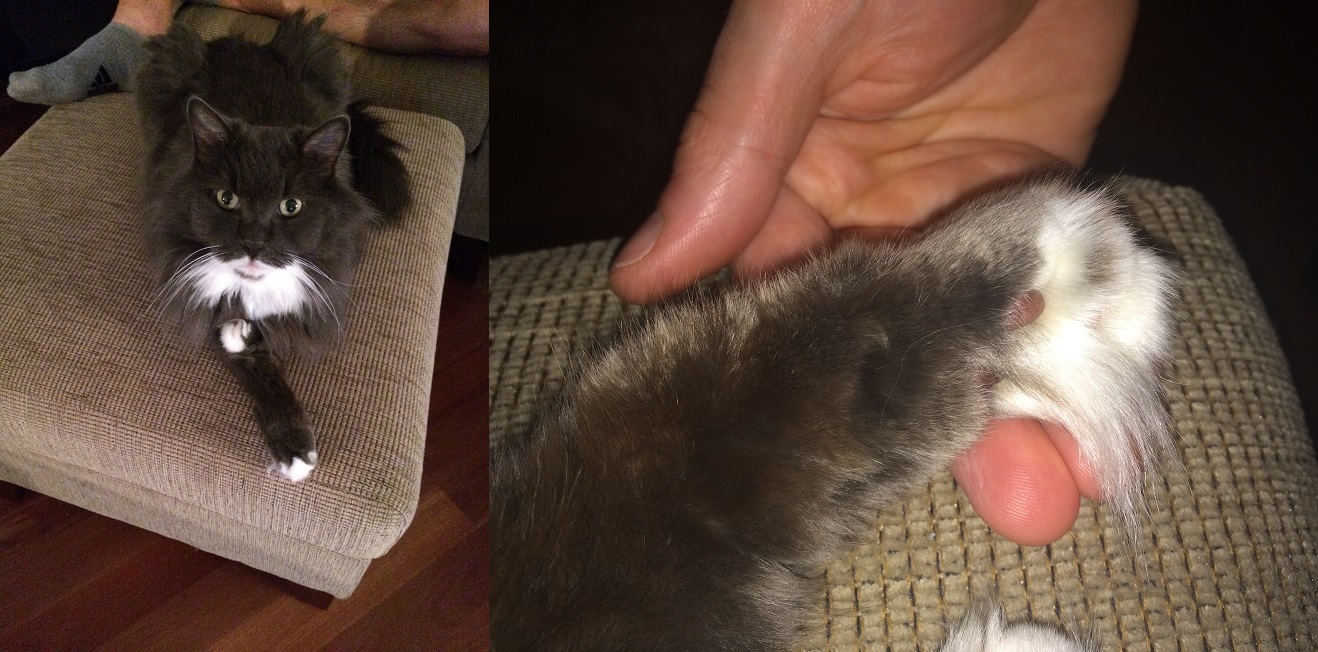 Pictured, left to right: We nicknamed a look similar to this 'the power stare'; Leilani's sweet fluffy feet.
So many individual amazing Leilani traits:
–   l loved being bossed around;
–   I loved being met on arrival every time;
–   I loved the head bump;
–   I loved your inspector ways;
–   I loved the arm flung out;
–   I loved playing the mouse game;
–   I loved your shark eye;
–   I loved you rolling in sand; and
–   I especially loved joining you outside which you loved.
So many times you helped us through the tough times and supported Carolyn whilst I was away.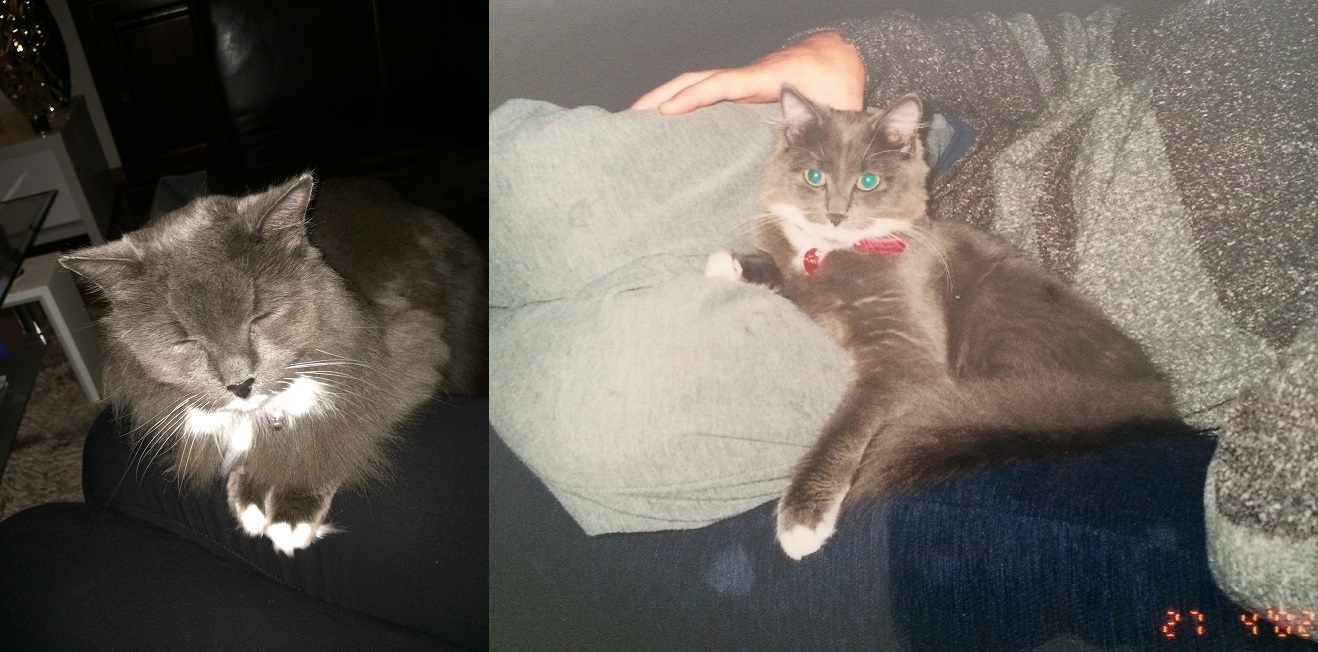 Pictured, left to right: The 'TPS' or two paw snuggle, one of Leilani's specialities;  It was cute finding this photo of Leilani almost in the same position from her younger days with Neil.
So many great memories and experiences and so many happy times and laughter:
–   I loved the time in Sydney you took me on a long walk to inspect the entire apartment complex;
–   I loved when you arrived in Canberra and were straight out of the carrier;
–   I loved getting bossed to bring you breakfast in bed every day;
–   I loved saving you from the "murderers" outside;
–   I loved getting head-butted in the shin;
–   I loved you trademark head-to-head bump; and
–   I loved you being a grot on purpose to get a clean and pat.
I am so sad having to let my little girl go.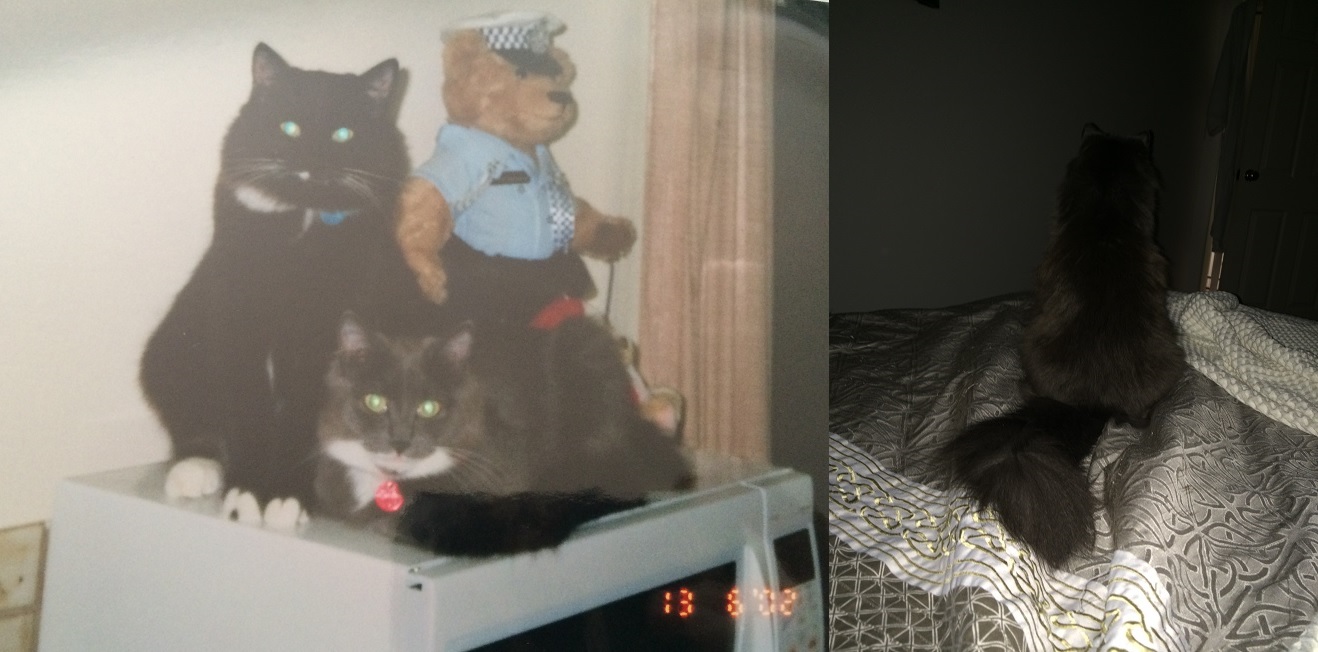 Pictured, left to right: Leilani and Roger, 7 months old; Leilani waiting eagerly for Neil to bring her breakfast in the morning.  So spoilt!
Although my heart is broken I know you will be around to support and comfort
Love you.
From Lesley:
Dear sweet Lani,
Thank you for waiting for me so we could say goodbye.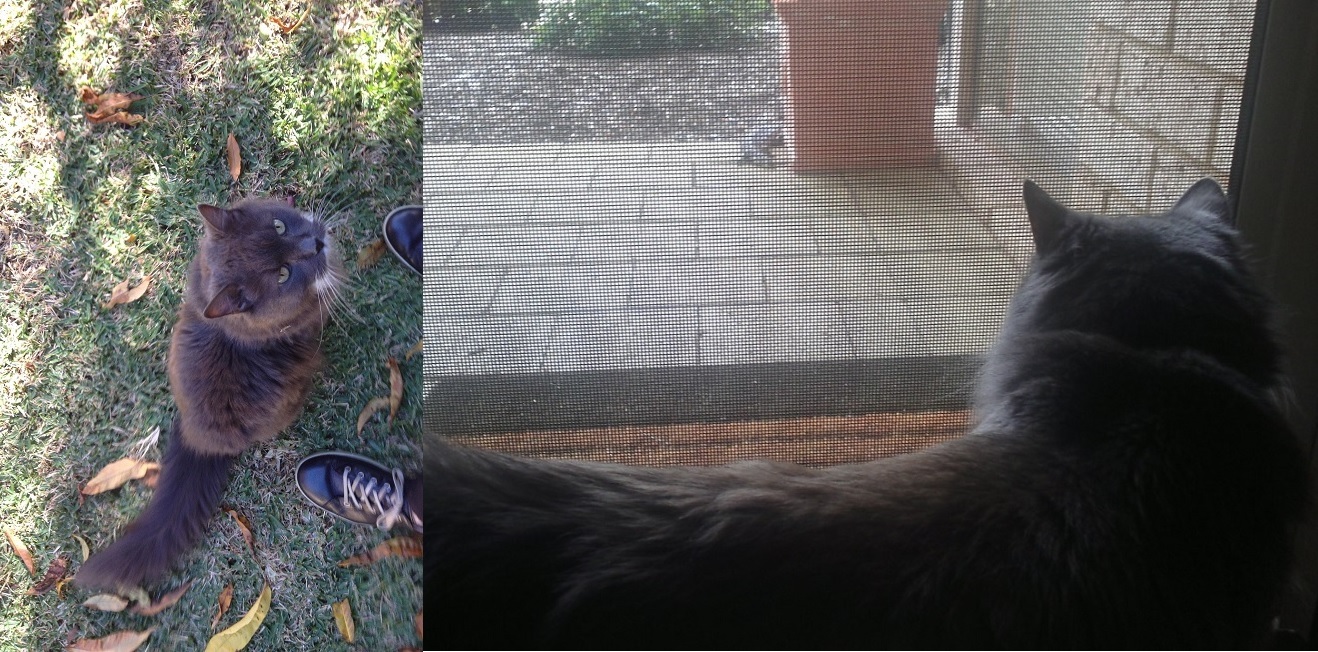 Pictured, left to right: Last photo my mum took of Leilani, 4 days before she passed away; Leilani intrigued to meet a bobtail lizard (2013 when she lived with my mum).
We've had many happy hours together.  I loved the way you always greeted me at the front door, your little bell tinkling as I put the key in the lock.
The year you spent with Matthew & me was a privellege.  You both helped us to heal after our beautiful boy Calvin passed.
Lani, you were the gentlest little girl and loved by us all.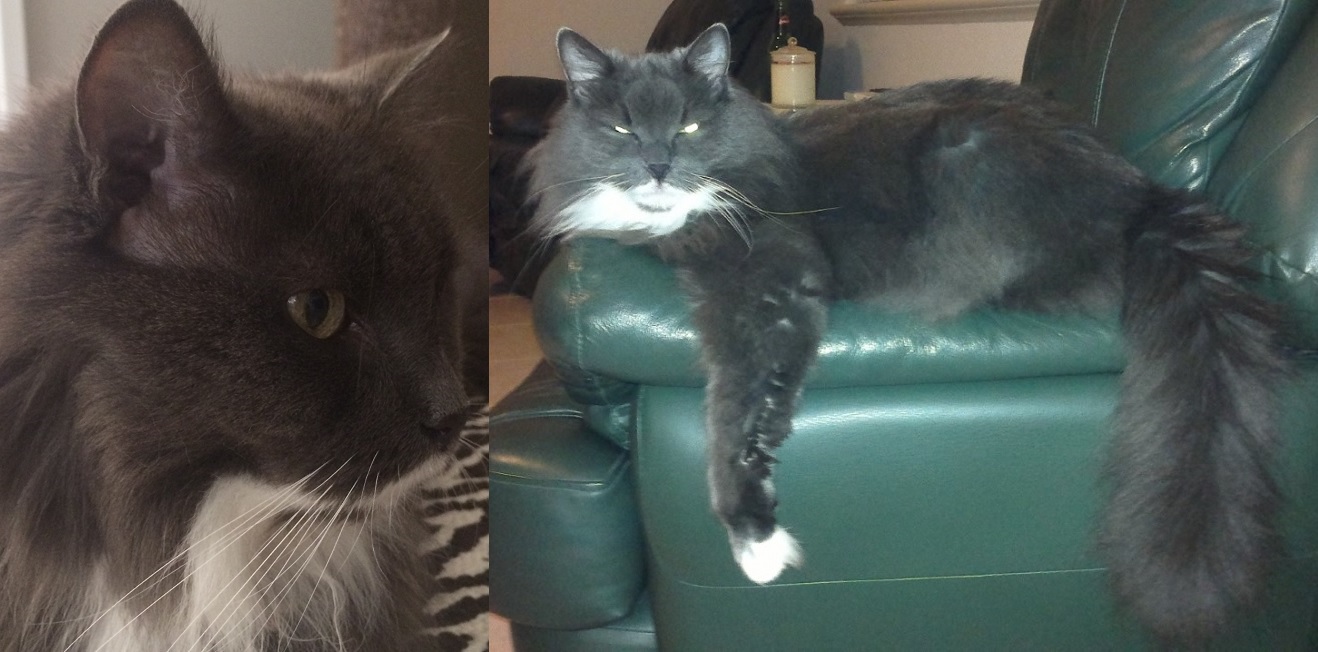 Pictured, left to right: Leilani close up; Leilani at mum's house, chilling.
From Matt
Dear Leilani,
I've known you since you were a kitten and I think we were good friends from the beginning.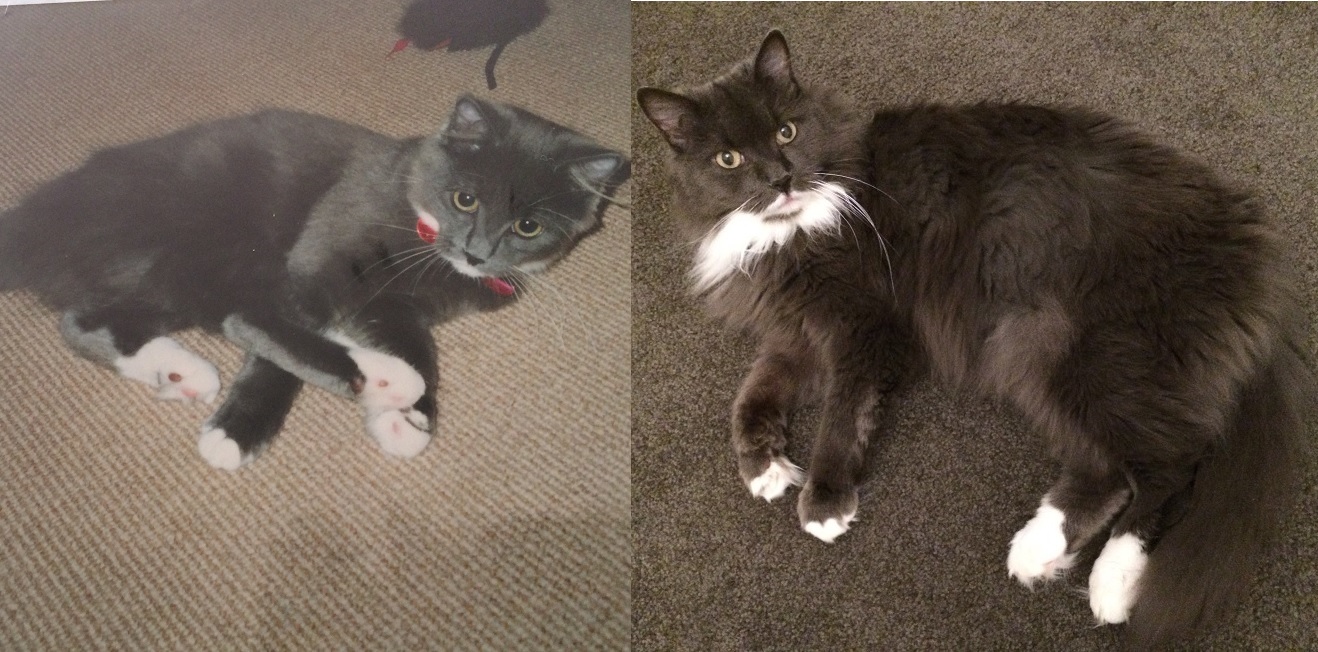 Pictured, left to right: Leilani as a young cat 2002/2003; Leilani in 2014.
I had the pleasure of sharing your home for a while.  You and Roger were always great company.  It was nice that you would always come for a cuddle whenever I sat down and most days you would wake me up snuggling on my head and purring.
I'll always remember your cute fluffy grey face fondly.  You were a lovely cat and I'll miss you.
Love Matthew.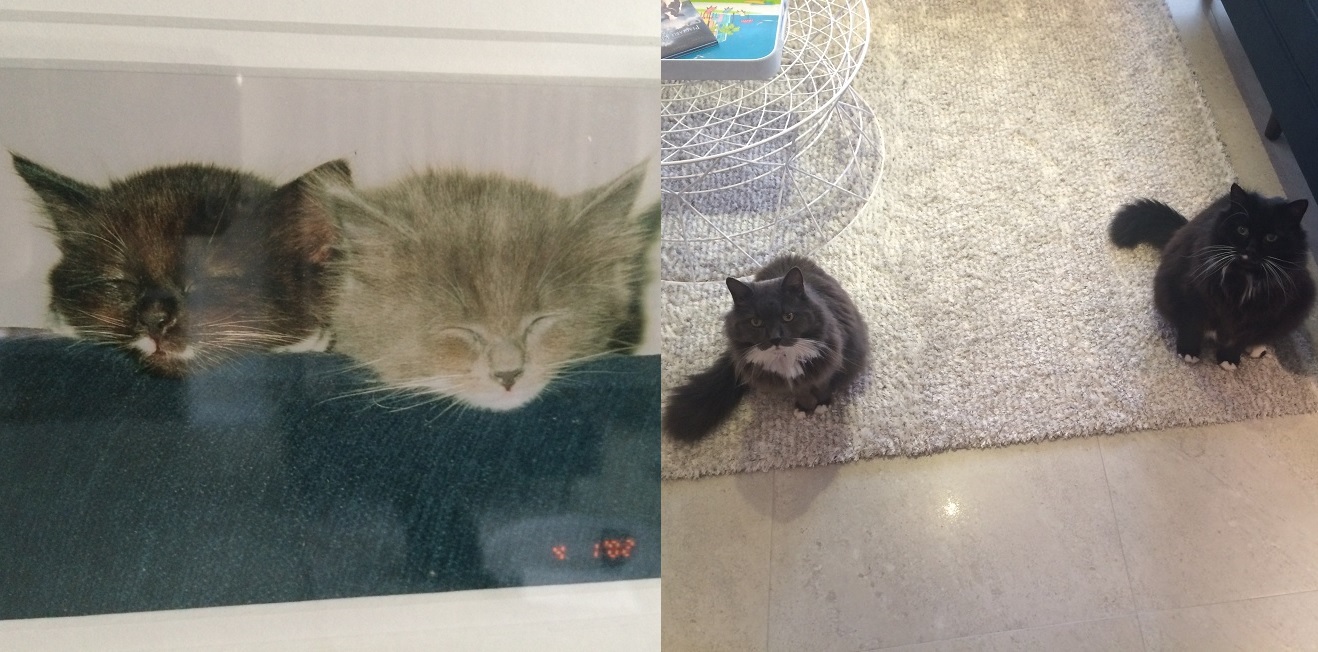 Pictured, left to right: Roger and Leilani 2002; Leilani and Roger 2016.
Claim your FREE copy of the PAUSE people animals wellness E-BOOK
'TOP FIVE THINGS YOUR ANIMAL FRIENDS WANT YOU TO KNOW':