After The Ceremony
I wish to share this story here, for any animal lover who has lost their wise and gentle friend and is processing their grief.  I hope it will bring you comfort as you cherish the gift of your animals presence in your life and as you find your own beautiful and heartfelt ways to honour them, going forward.
***
As we stepped outside on a sunny winters day as part of Leilani's ceremony, my husband Neil gently holding the beautiful physical body Leilani had called home in this life, I felt something shift inside me.
I felt a wall go up, a disconnection.  I knew this was a product of my mind…
My mind observing us as we read Leilani's beautiful eulogies…  As we laid Leilani to rest in our garden and planted a beautiful rose in her honour.  My blunt mind in the background saying: 'this is the end; Leilani is not here any more.  She is now part of the garden, no longer a part of your home.  It is over.'
I knew that Leilani's spirit lived on, not just due to my personal beliefs, but from the special signs and experiences of connecting with Leilani since she had passed.
But is seemed my mind wanted immediate closure.  It wanted to rationalise things so it could go back to focusing on things that made sense.  Perhaps it wanted to pretend this beautiful story of love, devotion and a bond transcending language had not occurred at all…
Robotic, my mind attempted to convince me that this response, a walling off of my heart, was somewhat 'easier' than moving through my grief… it almost felt like a suggestion to place a lock on my grief and then throw away the key.
My heart knew better.  It willed me to stay open to the beautiful lessons and journey that comes in travelling life with an open heart and an open mind.
For example, that Leilani:
–     Had waited for my mum to arrive and for her x-ray to be completed at the vet (so we would have the answer for her sudden passing), before minutes later she took her last precious breath and died naturally.
–     Passed when Neil had a week leave planned from his job working in the Middle East, where he most likely would not have been able to get away otherwise.  (With Neil working for an airline we were also able to cancel our flights for our anticipated trip to Spain, so we could immediately fly that night to Australia).
–     Left us at a time when Neil and I were following our hearts and our dreams in life, more than ever before.  (Something Neil and I discussed that morning).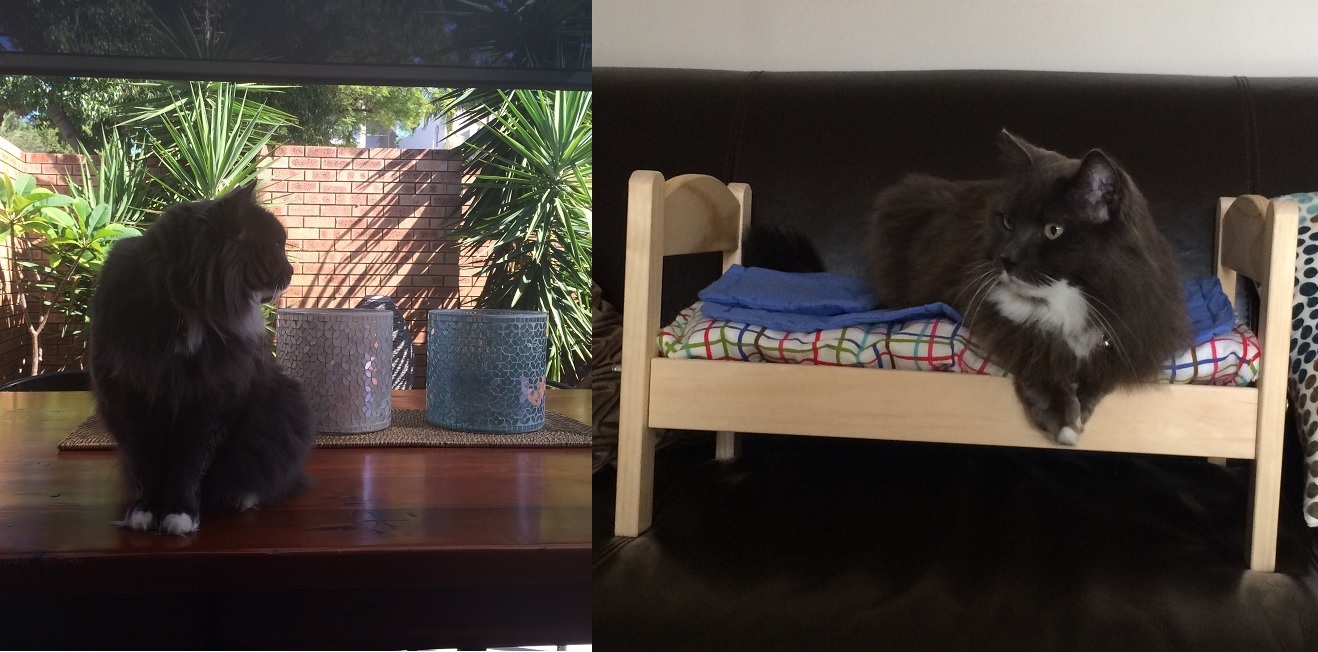 My heart also knew that the only way to overcome my sadness and sense of loss was to work through it.  More than that it knew that underneath my grief was a deep appreciation of the sheer beauty, of sharing my life with such a special being.  Clear evidence of the infinite ways our lives were intertwined and the journey we had shared together.
The mind however plays tricks, telling me that because Leilani was no longer here physically; that I would forget the blessing of what it was like to share my life with her.
I knew this couldn't be further from the truth.  I could NEVER forget my unique, sweet, strong, precious and wise friend and companion of over 15.5 years- our little girl- it would be impossible!  I knew how lucky my husband Neil and I were to have Leilani choose us as her caretakers and companions in this life…
Yet I still couldn't shake the feeling of separation.
RECONNECTING AND OPENING TO SIGNS FROM THE UNIVERSE
My phone beeped with a text from my bestie Kristie, who was checking in on us and wondering if I was up for a chat.  Grateful for her message, I called and after sharing details of Leilani's ceremony, Kristie gave us 'orders'- to go outside and enjoy the sunny day, suggesting we take a drive to the Swan Valley for lunch.
Both these suggestions spoke to me loudly and my heart opened in recognition of messages that appeared to be coming from Leilani herself.
I had never mentioned to Kristie, how much Leilani loved it when we were outside with her.  How she would always look at us with such happy, shining eyes and – tail up in the air- immediately walk over to sit with us, giving a gentle head bump to the shin if our attention happened to drift elsewhere.
I had also not mentioned I had been thinking about lunch in the Swan Valley in the previous months, or that I had been meaning to go there before leaving for Doha, to get Neil some of his favourite coffee.
As Neil and I drove to the Swan Valley, our hearts grateful, we slowed at some traffic lights.  I looked up and noticed a number plate 'LVE4ADRM'.  As I pointed it out to Neil, mentioning that it reiterated what we had earlier spoken about, I grabbed my phone to take a photo. Neil and I simultaneously noticed the time. 1:11.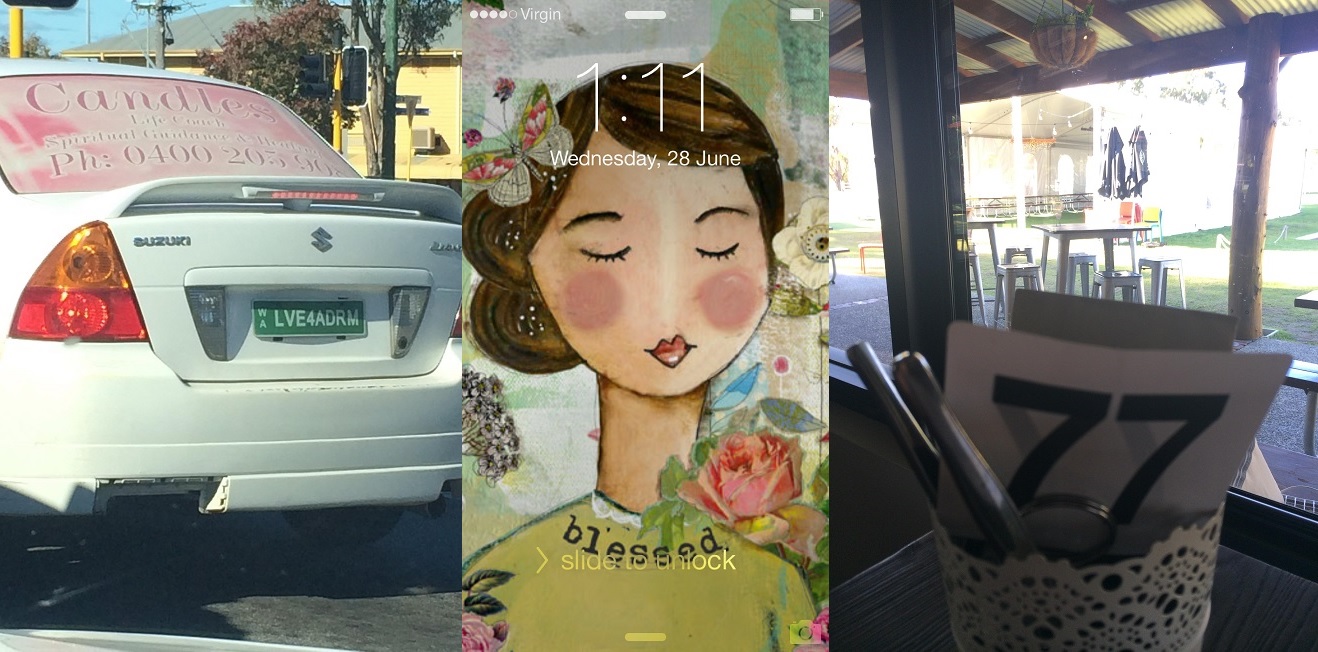 We ended up at The Henly Brook and the first thing I noticed was a sign for mulled wine.  Not quite the Sangria we might have been drinking in Spain but close enough!  There was a pretty pink banksia on our table and we asked for the candle on our table to be lit, in honour of Leilani.  We had been burning candles non-stop for her since getting home.
We ordered our food and received the table number 77.  I looked outside and there was an empty table directly opposite – number 7.  Our food came and our number was taken away, soon after the table number outside was removed, but not before we had noticed: 777.
Call me crazy, but I like to Google meanings when I see consecutive numbers (angel numbers), or when I notice certain animals (totem animals).
111 resonates with independence and uniqueness (like Leilani!), inspiration, manifestation and success.  Also stay open for other messages, which will be on their way.  777 relates to stoicism (Leilani again), healing, peace, and is a reminder that we are here to evolve and be of service.  It offers encouragement you are on the 'right path'.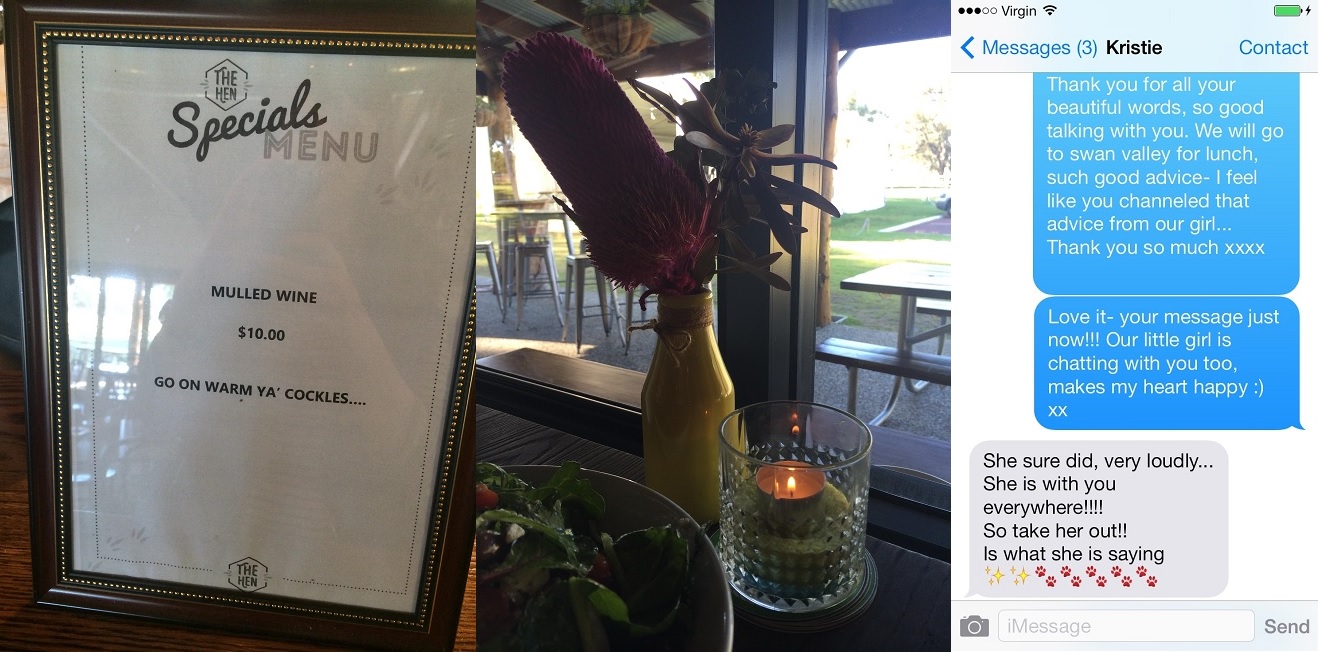 That night long after we had got home I glanced at the time, it was 22:22.  The message of 2222 being to trust in the unfolding of the highest good, everything happens for a reason and that the most important thing is love… "Love yourself and love your life."
This message instantly reminded me that first thing that morning, I had deleted a video on my phone to make space for more photos.  Kristie (love you girl!) had been urging me to practice videoing myself, so that I could get used to it (not something I enjoy!) and get my business message across more effectively.
Before deleting the video I had watched, to check what it was.  As I watched, I had the strangest experience.  I saw myself as truly beautiful, something I never thought about myself – I was too busy beating myself up!
I noted that my worries, my perceived shortcomings were there, but they appeared like a mirage in the background.  What shone through was the warm beauty of who I really was.  I realised… that Leilani had been with me as I viewed the video, and she had lovingly communicated to me how I appeared in her loving eyes.
To recognise the meaning of this earlier experience brought tears to my eyes.  Through my work sharing meditation with animals, I had sensed and understood in my heart that this was how our animals see us, but to experience it directly on behalf of my dear Leilani, was a precious precious teaching and gift.
It is my hope that you might see yourself in these words.  That you may recognise the sweet offering from your own animals as they transition, and that these messages will soothe your heart as Leilani has soothed mine.
Leilani- there are no words, 'I love you' doesn't even come close.
Claim your FREE copy of the PAUSE people animals wellness E-BOOK
'TOP FIVE THINGS YOUR ANIMAL FRIENDS WANT YOU TO KNOW':