Your gentle compassion has helped us greatly as we have navigated… one of the most difficult situations we have ever been through.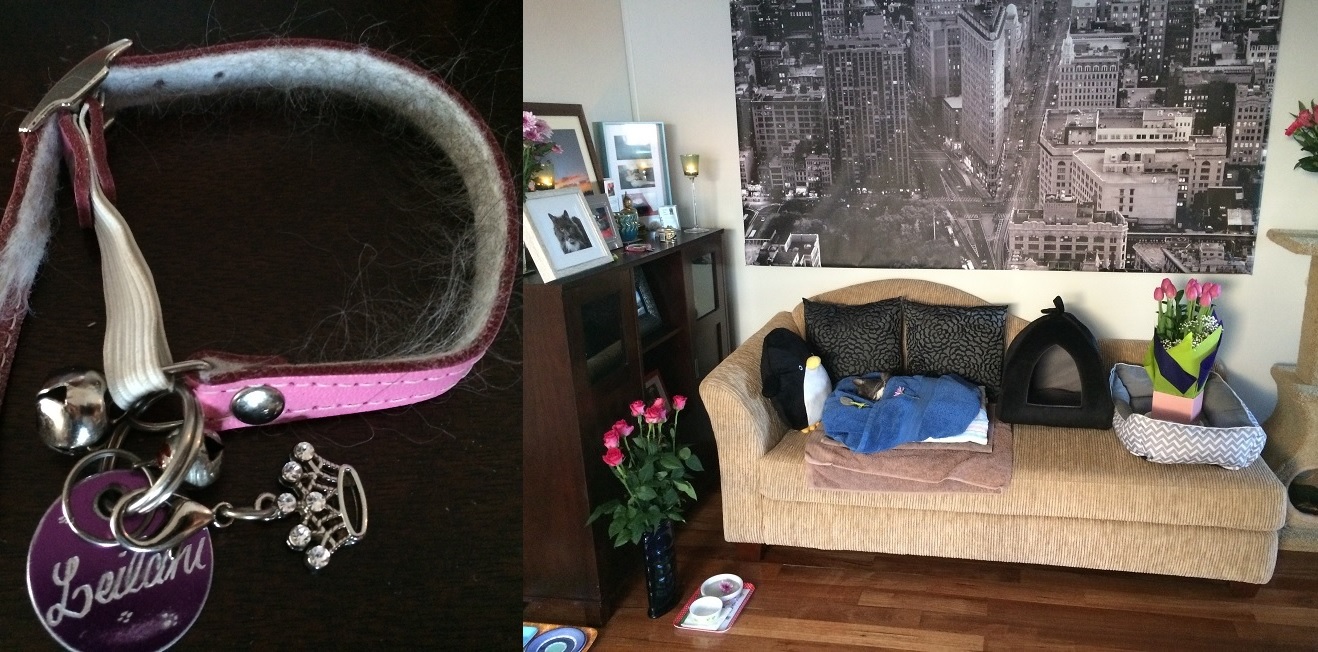 Pictured, left to right: The vet had removed Leilani's collar. It was only this year I had found the cute princess crown tag and bought it straight away for Leilani. We had often said she had been a princess in a past life. / It was so special to pay tribute to our girl in this way.  We have had candles burning day and night for Leilani.
Leilani though, has shown us many, many beautiful signs, to let us know she is still with us and still shining as sweetly as she always did. Via meditation and otherwise, these teachings and messages have been so soothing to our hearts, and we believe… to Leilani's precious spirit too.
One of the most unique and meaningful signs, I would like to share with you here.
I have also shared, in photos, how we honoured our girl for the first 3 days of her passing (above); as she rested in state, just outside our bedroom.
And also her ceremony late Tuesday afternoon (pictures above and below), held with Neil and I, my mum and brother Matt and our cat Roger, when we laid our princess to rest.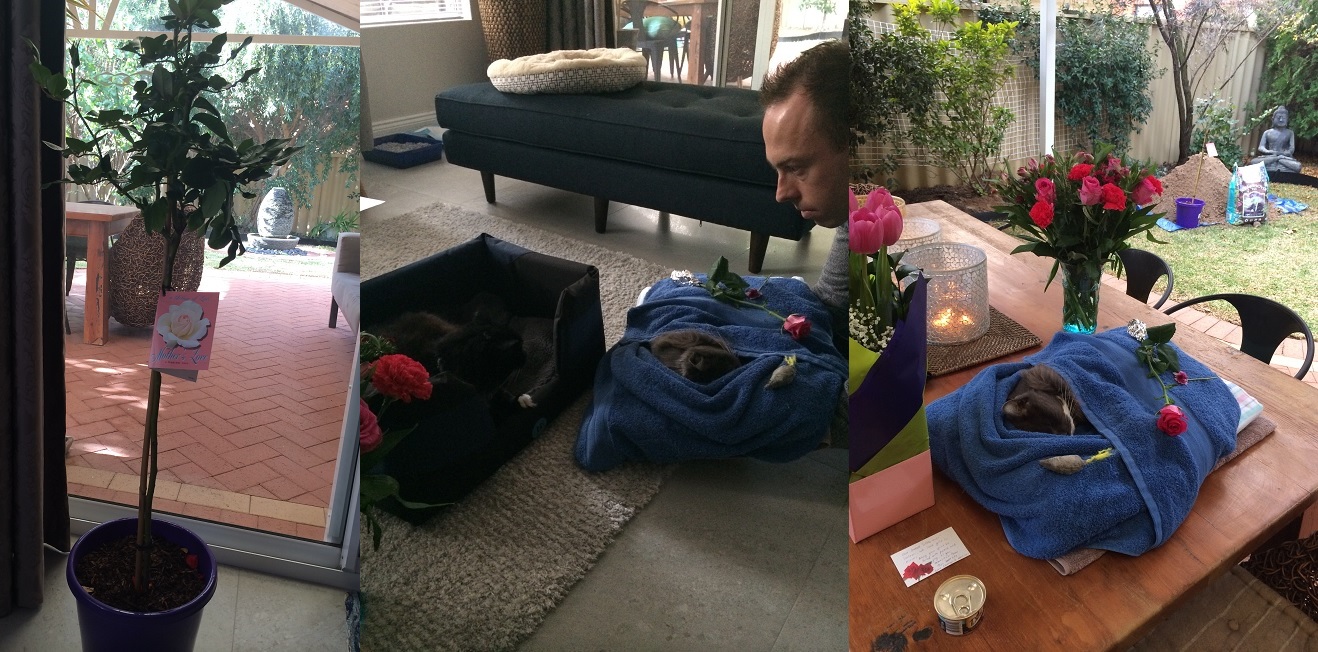 Pictured, left to right: We purchased a rose for our girl's burial site. It was the only rose that was suitable for the area we had chosen, as it only needs half day sun… And beautiful that the name of the rose is 'Mothers Love.' / As we commenced Leilani's ceremony, on our way outside… We then left the door open so Roger could join us. / Neil and I, my mum and my brother Matt, all stood around our girl, and shared memories, and gratitude for Leilani's presence in our lives.  Leilani and Roger had lived with Matt in 2012 for 3 months when he house sat while we lived in Bali. In 2013 Roger and Leilani lived with my mum (& brother) while Neil and I lived in Jakarta.  The 4 of us knew her the best in this whole wide world.
The night before Leilani's ceremony, Neil had the beautiful idea to serve Leilani her favourite food and milk/ water.
We had left her bowls out (as we will continue to do in the coming weeks). As Neil reached for her tray and bowls, I found myself asking- that he serve her food on the ceramic bowl, not the plastic one. These words just flowed out of my mouth, neither of us questioned them.
It was emotional to see Neil climbing the stairs with Leilani's tray, with her white meat tuna and warm milk (yes he had boiled the kettle, just as we always had).
Neil lovingly placed her tray just outside our bedroom, and not long after we went to bed.
The next morning, after a rough nights sleep, I woke to the soft sound of my girl eating… As I wondered if I was hearing correctly, the sound of her eating was amplified all around me..
In the next moment I heard the sound of her tag gently tapping a few times on the side of the plate as she ate. It was the sound I had heard so many times.
Part of my mind wondered if it was somehow Roger (although his tag never knocks on the plate like that), but I reached out and he was laying on the bed next to me, where Leilani used to lay.
As I laid there, acknowledging that Leilani was letting her presence be known in such a sweet way, I thought to check the time and reached for my phone on the bedside table, it was 6.45am- the time she would usually be eating her breakfast.
Laying there… Just a few short minutes later… the birds outside started to sing…
It was so beautiful and tears came to my eyes. When Neil woke and I shared with him, we were both in tears. Such a special and powerful little girl!
Leilani- thank you for the healing, the lessons, wisdom and the beauty you have shared and continue to share with us- we love you so very much. It was a privilege and an honour.
May the blessings of this post benefit all beings.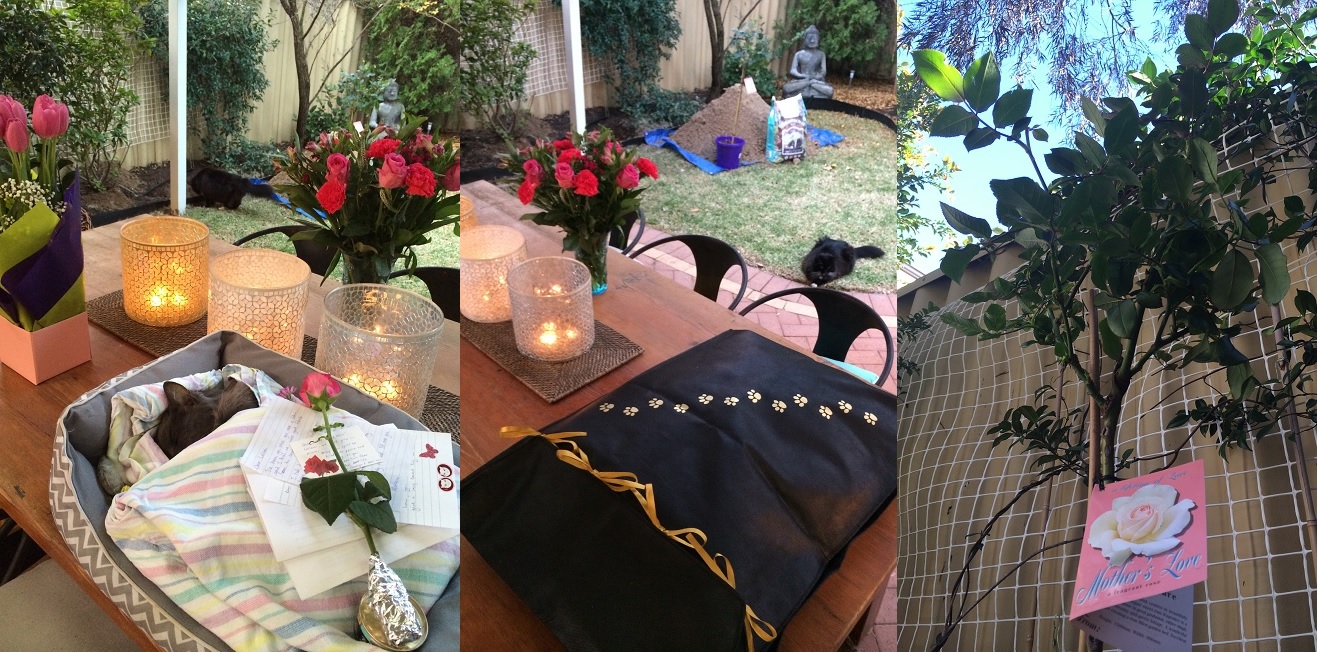 Pictured, left to right:  I wrapped Leilani in a soft flannelette sheet from my childhood. We lifted her gently into one of her beds.  We placed copies of our words, Leilani's favourite mouse toy, an everlasting flower, a rose and (underneath the base of the rose) a can of her favourite tuna white meat.  In the background, you can see Roger looking at the garden bed, where his sister would soon be laid to rest. / We visited a pet burial company to look at memorial plaques, who gifted us this beautiful bag.  It was precious to share the ceremony with Roger. / It was a beautiful sunny winters day for the ceremony, one Leilani would have loved.   In the days since her ceremony, it has been lovely to witness the sun shining on this beautiful rose and it's leaves.  Yesterday morning, Neil shared that the first thing he saw when he looked outside, was the sun lighting up the 'Mothers Love' tag.  We look forward to enjoying the roses in the coming years, and will carry Leilani with us in our hearts forever.
COVER PHOTO FOR THIS POST
Photo 1: The last photo I took of our sweet little princess. When I left for the airport/ Doha, Leilani was in 'her house' on our bed, when I kissed her goodbye…  
The bed has a heated pad in it, but I hadn't introduced Leilani to it as it couldn't have been left on while I was away.  
I had so been looking forward to introducing her to it when I got home… The last few nights it has been turned on in her honour.
Photo's 2 & 3: On Sunday night after we arrived home, and just before we went to sleep, we moved Leilani from our bed where she had been waiting for us, to the chaise just outside our bedroom.
Beautiful flowers for our beautiful girl.  The tulips and everlastings were from my mum. Neil and I purchased the other flowers, including the long stemmed pink roses on Monday. Throughout that day both of us heard Leilani purring loudly…