Signs, Synchronicity And The Sweetness Of A Song (Travelling With Leilani in My Heart)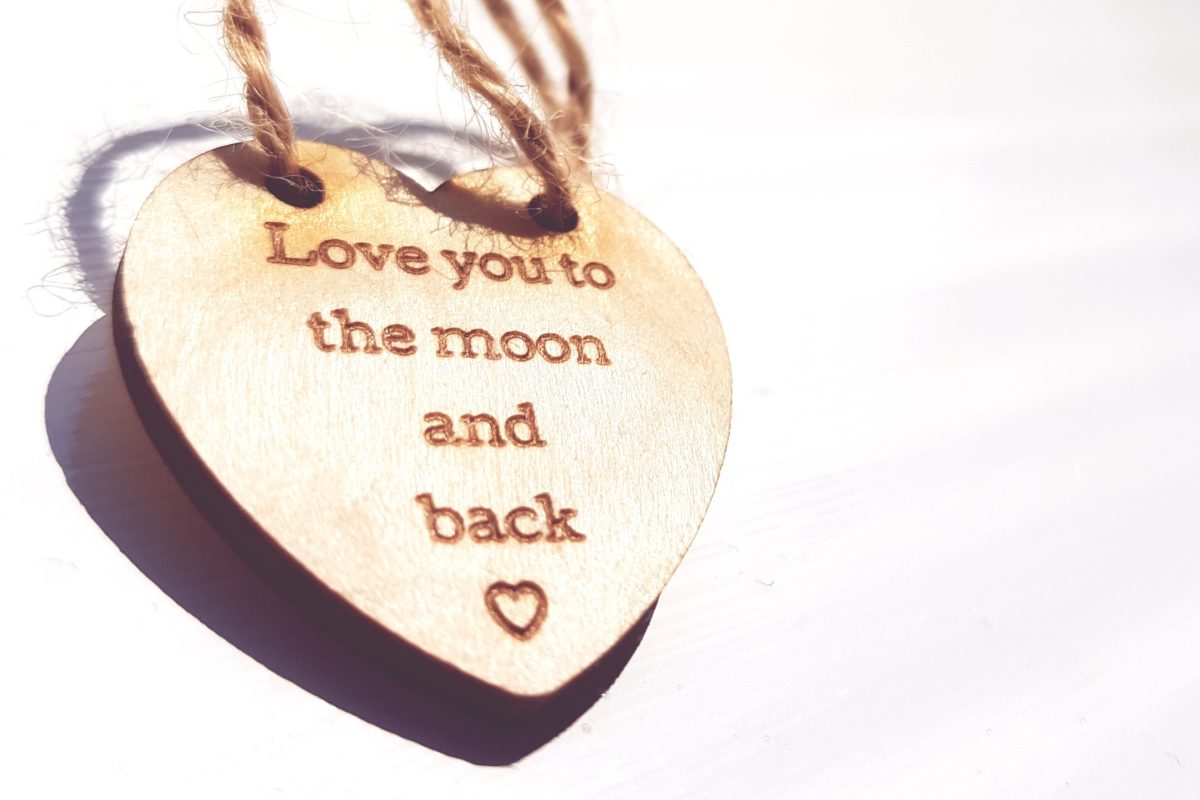 I have recently returned from a month away, spending time with my husband who is working overseas. It was special to be together again and to have time to grieve our loss of Leilani, together.
In the weeks before I came away, I was seeing double, triple & quadruple digits constantly. For example, every time I looked at the time it was 11.44 or 2.22 or 5.55.  Even my luggage departing Perth weighed 33.3 kg's! (I was bringing food and supplies for Neil- wasn't all clothes and shoes!)
"Those who don't believe in magic will never find it." Roald Dahl
Once I arrived in Doha, Qatar, I was sharing these signs with Neil, while he looked at me in his usual way when he thinks I'm talking crazy- lol!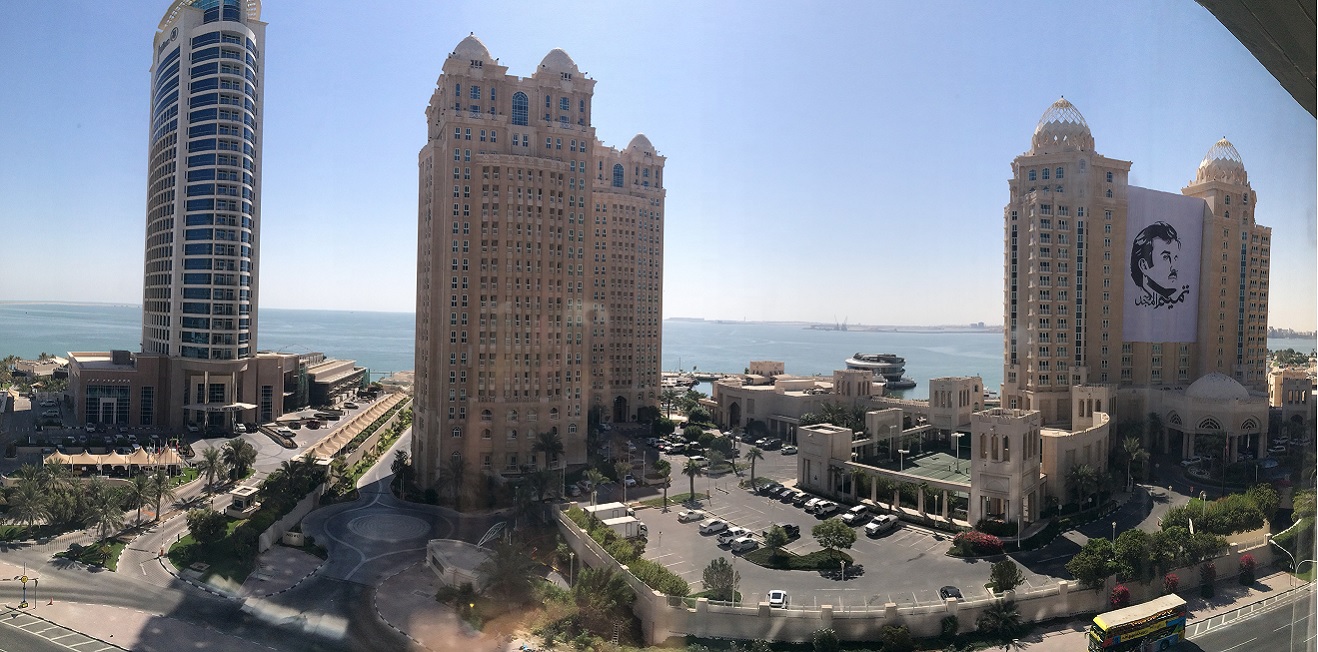 Pictured: View from our accommodation in Doha, looking out to the Persian Gulf.
Later that day, we headed to the nearby shopping centre to grab some food for dinner. We stepped outside and were only metres away from our apartment when a bus drove by- number 777.  I quickly pointed it out to Neil.
We continued to the shops, and it was only after we got home that I looked at the receipt. Our food had cost 111.11 Qatar Riyal! It was becoming difficult for Neil to ignore my 'crazy talk'!!!
A few days later, we left for a holiday to Spain. Originally this trip had been planned for the 25th of June, the day after Leilani unexpectedly passed away. We had cancelled the trip to return to Australia and lay her to rest, but our Barcelona hotel had let us change the dates even though the rate we had booked was non refundable. (Thank you Hotel Regina!) It was very compassionate of them, and I had brought a framed photo of Leilani in my hand luggage, to share with the staff.
As we checked in at the hotel lobby, there was a song playing in the background. As I listened to the words sung sweetly by a gentle female voice,
 "…Got a feeling most would treasure – And a love so deep we cannot measure – Ain't nobody – Loves me better – Makes me happy – Makes me feel this way – Ain't nobody, loves me better than you…"
I held back tears. It felt in my heart like a message from Leilani and I couldn't bring myself to pull her photo from my bag, as I knew it would result in me being a crying mess!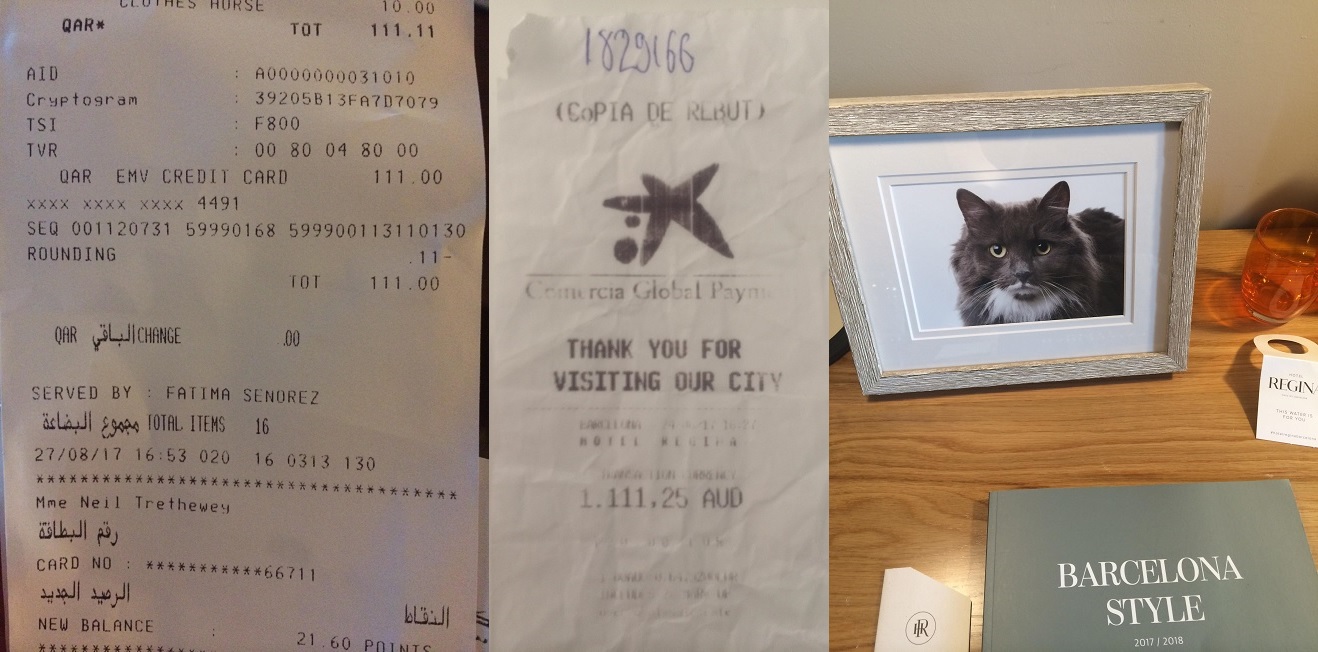 Pictured, left to right: QAR 111.11 receipt. Hotel Regina receipt $1,111.25. Leilani in Barcelona.
The clerk discussed the bill and handed the original receipt to Neil, processed back in June when we originally booked. I immediately noticed the amount printed, showing a conversion to: $1,111.25 AUD!
The following day I could not remember the song, although I knew I had heard it before, and was mad at myself for not writing it down.
On our way out, I asked at the front desk if they happened to know what the song was? I discovered a DJ creates a song list for them every month and that the same song would be playing, at the same time, each day. They gave our check in time as 4 PM.
2 days later, we were on the second day of a hop on/ off bus tour, with plans to return to the lobby in time for the song.
Suddenly, Neil noticed we were at an unanticipated stop right across from our hotel- so we jumped off about 3.25pm and got to the hotel ready to listen out. As we entered the song was playing- so had he not noticed we would have missed it!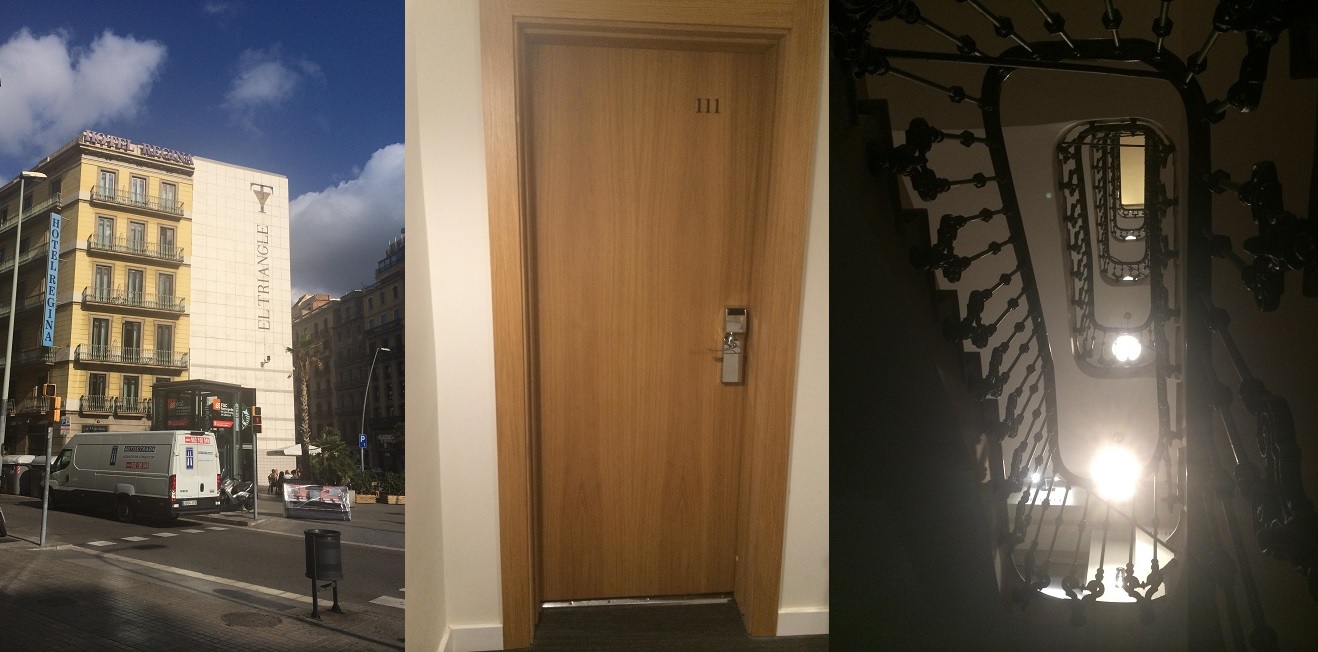 Pictured, left to right: Regina Hotel spotted. Room 111. The beautiful spiral staircase of the hotel, which was built in 1917.
The song was 'Ain't Nobody (Loves Me Better)' by Felix Jaehn, ft. Jasmine Thompson (the vocalist). You can listen to the song on you tube by clicking this link or read the lyrics here.
Earlier that morning, at the hotel breakfast, I overhead for the first time (apart from when our own was requested) a staff member asking for a couples room number. The man replied "one hundred and eleven, 111." Triple digits again!  That night on our way up the hotels beautiful staircase to our room on level 5, we took a detour so I could grab a photo of room 111 for this blog. :)
It was in Spain I realised how many little strands of hope existed within me that Leilani was, somehow, still alive. That when I returned, she would be there to greet me, as she always had been when we had traveled in the past.  That there was something I could do to miraculously bring her back.
The grief within me was rising up and I noticed, not for the first time, the part of me that was bargaining with the universe.  To take away the beautiful signs, the holiday and give me Leilani back instead.
My rational acknowledgement that this was ludicrous only made me cry.  Refocusing on being present and in the moment, on my breath, helped to gently ease my grief.
Knowing our other cat Roger (Leilani's brother) was having fun on his own holiday at my mums house (she had started affectionately referring to him as 'Roger the lodger') allowed us, gradually, to relax, move forward and carry Leilani's warmth and sweetness in our hearts as we explored new places.
Pictured: Hop on/ off bus tour in Barcelona. With Neil at one of the stops, overlooking the coast.
After lots of sightseeing, and indulging in amazing food (like our first taste of Gazpacho – Spanish Cold Tomato Soup- which was sooo much better than we ever imagined!) we returned to Doha for one night, before getting back on a plane this time to Montreal, Canada.
Neil was attending a conference so that first day I headed out to explore, starting with a nearby street we had discovered after arriving the previous night.
I was drawn into a shoe store and within a minute of being in there, what song should start playing but that same version of 'Aint Nobody (Loves Me Better)'.  Beautiful!  Intuitively I felt there were some shoes in the shop for Neil, but when he went later didn't find any he liked.
Another day I took a day trip out to the Laurentian Mountains, about a 2 hour drive from Montreal.  It was beautiful to see this part of Canada- I recommend this tour if you are ever there!  (Or better yet stay a few nights at Mont Tremblant, giving time to zip-line down the mountain- a 3 hour adventure that looked like heaps of fun!)
Fast forward another week, we were back in Doha and had driven out to visit a new large shopping centre.  I popped into a shop and Neil said he would be in another.
After a quick look around, I headed out and walked into another store which looked like one Neil might be in, to find "Ain't Nobody (Loves Me Better)" was playing!
The 3rd time, in 3 different countries in 3 weeks (well 22 days but close enough!), and it was not even a recently released song!  My heart smiled.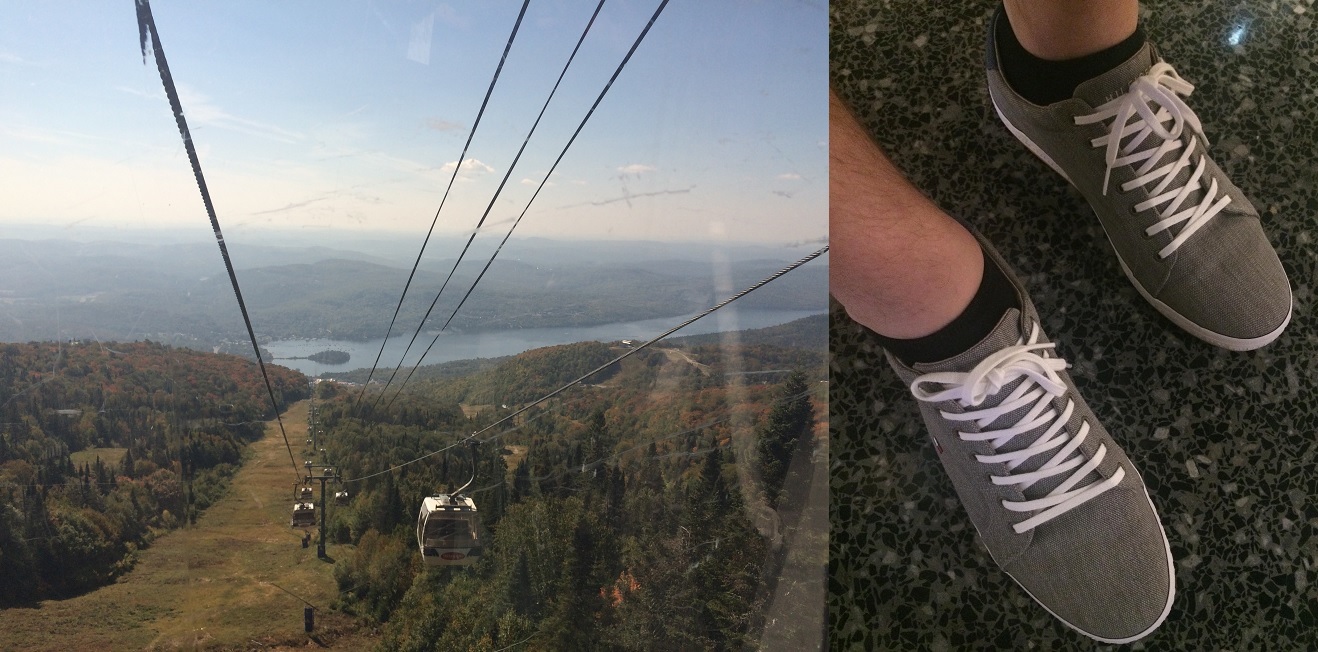 Pictured, left to right: Mt Tremblant, outside of Montreal. Neil's new shoes- from Leilani!
Neil wasn't in the shop so I went back out, and he soon appeared.  I said to him, you have to come into this shop, Leilani's song is playing!
We went in together and as the song played he was drawn to some shoes… a grey pair with white shoelaces (is it a coincidence these were the same colours as Leilani's fur?!)  After trying them on he bought them.  Leilani had helped Neil get his new shoes after all!
A few days later as I was preparing to head home, I was saying to Neil he would have to try and grab a photo of the 777 bus for me.
My flight out of Doha wasn't until 2am, so Neil and I headed by foot to a local hotel for some food/ drinks.  On the way there, a bus headed towards us – it was the 777 (this was a different street to where I had originally seen it).  I grabbed my phone but it was too late, it had already sped past.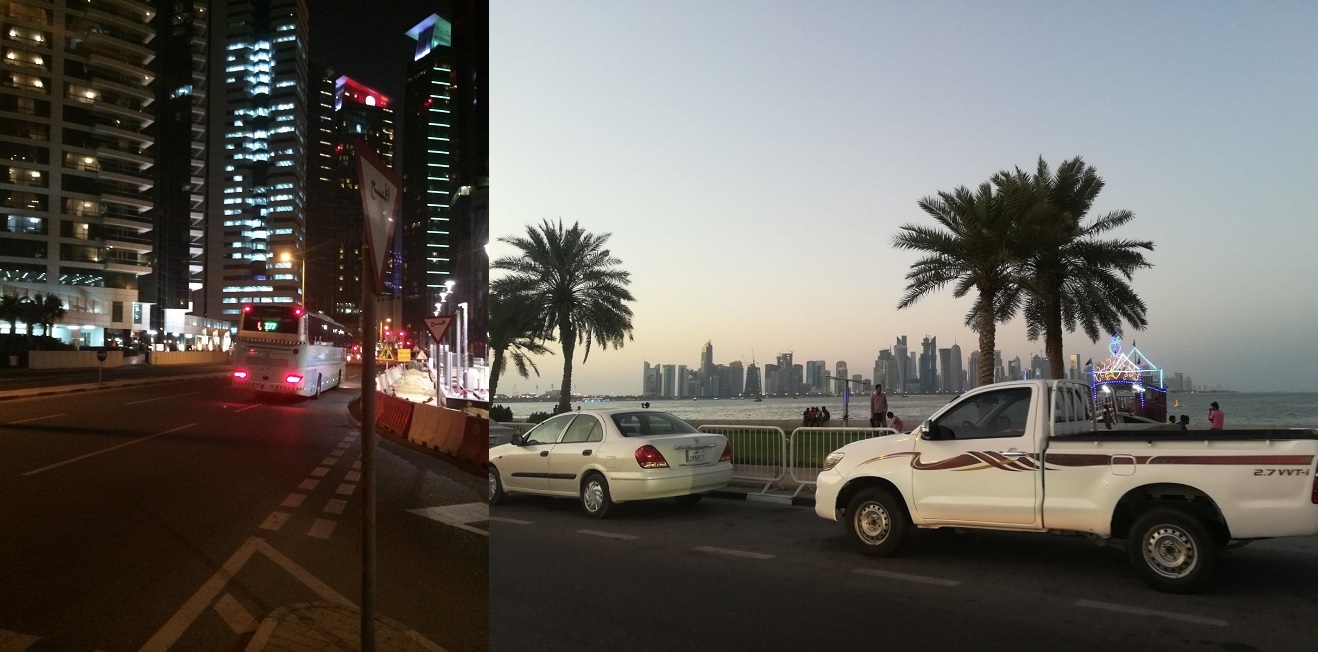 Pictured, left to right: The 777 bus. Doha city view.
Afterwards as we walked back to our apartment, on that same street, there just happened to be two 777 buses, one coming from each direction!  This time I was able to capture a picture!
Later, bags packed, Neil ordered an uber for us to the airport and we waited for it to arrive.  As we got in I couldn't help but notice the time displayed on the cars dashboard: 11.11.
xx Carolyn
Deepen your relationship with the animals, learn how to share meditation with them at my next class!  Details here, or under the 'LEARN' tab on this website.
'LEILANI'S LEGACY' is a FREE online resource designed to both celebrate Leilani and honour the hearts of animal lovers, everywhere. (Contents page found under the RESOURCES tab of this website).